Wolfenstein 3D - Wolfenstein Missions: First Encounter v.1.1 - Game mod - Download
The file Wolfenstein Missions: First Encounter v.1.1 is a modification for Wolfenstein 3D, a(n) action game. Download for free.
file typeGame mod
file size1.9 MB
last updateFriday, December 16, 2016
downloads547
downloads (7 days)13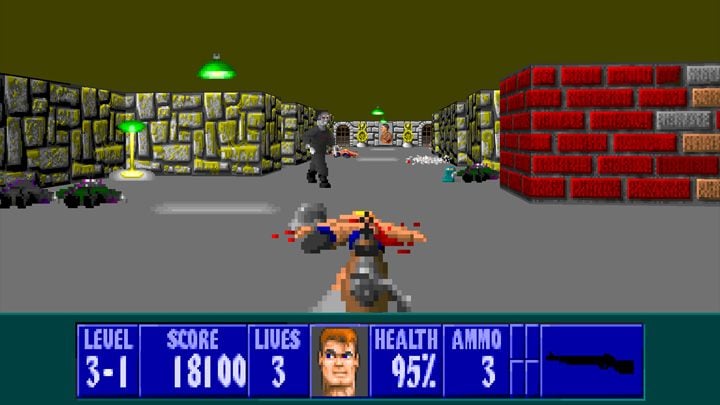 Wolf3D: Third Person is a mod for Wolfenstein 3D, created by tankermottind.
Description:
Itís a set of 9 singleplayer missions, buil with ECWolf.
Story:It is the year 1943, in the darkest hours of the Second World War. You are William J. "B.J." Blazkowicz, a spy working for the American OSS intelligence service. While investigating a rumored German chemical weapons program in occupied Lithuania, your cover was blown and you were arrested by the SS and sent to the notorious Castle Wolfenstein, in the Bavarian Alps. Once owned by Bavarian nobility, Wolfenstein is now a prison where Allied spies are interrogated and executed.
You have been imprisoned in Castle Wolfenstein for twelve days. You have overheard orders from your jailer, Oberst Hans Grosse, that you are to receive "special measures" to loosen your resistance to questioning. You see a guard coming towards your cell, but whatever he has in store for you, you have no plans to find out. As he opens the cell door you fling yourself upon him, crushing his windpipe with your hands. As blood pours from the now limp guard's mouth and nose, you take the knife and pistol from his body. You listen carefully--no one seems to have heard you.
Most assuredly, however, they will inevitably come looking when the dead guard fails to report back. You survey your loot from the guard. His uniform is too small for you to wear, but you fit into his boots. Boots, a knife, a pistol, eight bullets. Enough to kill two guards, maybe three. Your act of desperation has sealed your fate. If the Nazis see you, they won't give you a second chance.
Your mission is clear. You must escape from Castle Wolfenstein, or die trying. The enemy will be out for your blood, and you'll need every means at your disposal to kill them before they kill you. As you load the pistol, you think to yourself that you signed up to be a spy, not a one-man army.
Guess there's a first time for everything.
Instructions:
This mod requires ECWolf to run.
Report problems with download to support@gamepressure.com