Stellaris - Doctor Who Mod v.2.0.2 - Game mod - Download
The file Doctor Who Mod v.2.0.2 is a modification for Stellaris, a(n) strategy game. Download for free.
file typeGame mod
file size262.8 MB
last updateMonday, May 7, 2018
downloads1242
downloads (7 days)12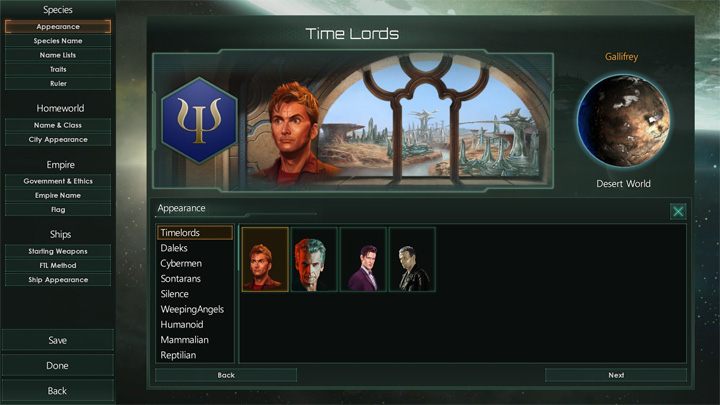 Doctor Who Mod is a mod for Stellaris, created by JoWi.
Description:
This mod adds 6 new species from the show Doctor Who: Time Lords, Daleks, Sontarans, Silents, Weeping Angels and Cybermen.
New traits and civics added just for these new species. so the player and other species will not be able to choose them!
Each species will have some unique features in accordance with their story-line in the show. For example:
-- Time Lords will be able to travel almost instantly with their TARDIS ships.
-- Daleks and Cybermen will have slightly better ship armor.
-- Weeping Angels will not consume any food since they're statues. But they are really slow on growth time.
-- Sontarans will have slightly better armies along with the Daleks. But Sontarans will not be able to use Emergency FTL because an honourable Sontaran would never run away from a war!
-- Silents will not have happiness problems from other species. Because they will forget about Silents. Wait, who?
-- Time Lords and Weeping Angels are immortal.
-- Greeting sounds added for each new species.
Loading screens are replaced with Doctor Who themed ones.
Doctor Who soundtracks added.
To install:
Extract into " …Documents\Paradox Interactive\Stellaris\mod\" and activate in menu.
Report problems with download to support@gamepressure.com