Call of Duty 2 - Call of Duty 2: Waffen SS Edition - Game mod - Download
The file Call of Duty 2: Waffen SS Edition is a modification for Call of Duty 2, a(n) action game. Download for free.
file typeGame mod
file size669.5 MB
last updateSunday, April 15, 2018
downloads3899
downloads (7 days)49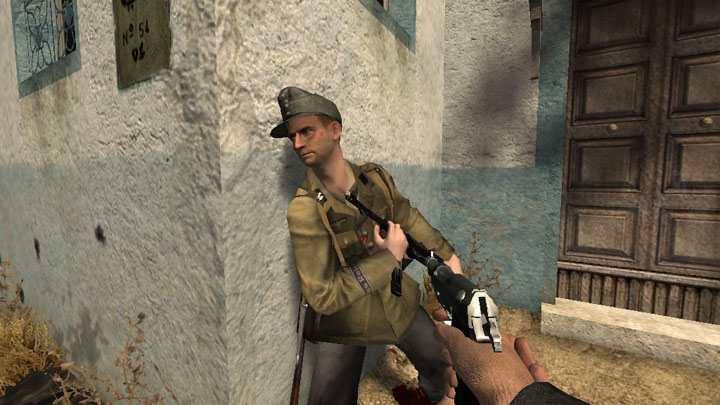 Call of Duty 2: Wehrmacht Edition is a mod for Call of Duty 2, created by AugustusNocturnis.
Description (in authorís own words):
Guten tag, players. Throughout the years of World War II gaming, countless games have been made where the player is on the side of the Allies, a few games have been made on side of the Wehrmacht, but hardly any mods, and practically no games have been made where the player joins the side of the Waffen-SS. Considered by some historians to be among the finest soldiers of the 20th Century, this mod will change your perspective of the war, and even open up a window of alternate history as you step into the boots of the soldiers of a variety of SS panzer divisions.
The goal of this mod is to almost completely "Germanize" the game, making it close to a total conversion (new maps may or may not be included, I am a rather bad map-maker), regardless, the experience of the Single-player campaign will be completely changed, and nearly every detail of the game is focused on from new language and sound files, to correct flags and bunker decals. Unlike other German mods (what few there are), the main focus will be on the player immersion, and, to a degree, realism.
Anyone who helps with voice acting, skinning, modeling, or map scripting will get early access to a beta, and possibly more depending on how outstanding their work is.
Features include:
-Switched sides from Allies to German Waffen SS
-New uniforms, vehicles, and weapons
-High quality weapon and uniform skins
-Interesting characters.
-New music, menu theme, and much more related to menu and mission select.
-A new background story for each SS soldier the player plays as, detailing an alternate history where the Axis powers are victorious in World War II.
-A tad bit of realism
-English language spoken with a German accent for friendly "hero" characters and friendly SS soldiers (I will admit that I have somewhat limited resources as a non-commercial modder, and thus cannot hire professional actors, anyone willing to volunteer their voice would be a great help, otherwise I will have to find a work-around some how.) Also, I might go simply with German, we'll see how things work out.
-Completely changed single-player campaign
-New load screens
-New AI
-New campaign videos and slides? (Seeing what I can do with that)
-Considering adding new maps.
-I might add new features to multiplayer, but in my opinion, multiplayer usually doesn't need a whole lot of work since Cod2 multiplayer is essentially dead.
-Real-life, historical characters (such as famous Waffen-SS generals) will both be mentioned and even make an appearance in the game.
-A slightly more gritty and grim game feeling.
-As few bugs as possible.
-More details and features will be showcased and added later as development continues.
Credits: DarknessImmortal669: Mod idea, research, script compiling, arms and sleeves, xmodel modifications, all localizedstrings, subtitles, menu music, theme, mission select themes, and side flags, storyline, main characters, weapon compiling, loadouts, bunker decals and flags, mod page, ranking and naming system, new quotes, most weapon stats, vehicle names, objectives, vehicle reskins, aesthetics, voice of the new "Letlev".
Back2fronts/WCP mod team: Mp40, P38, Panzer IV, bazooka, panzerfaust, grenades, 6pounder, helpful tips,
Mg42s, Fallschrimjaegers, FG42, StG.44, SS caps, T-34, Gewehr 41, MG34 and for being great modding teams with ambitious goals.
Slepnir's Wehrmacht mod and old Axis Player mod: Base aitype/character conversion, major character names (such as Cpt. Price), some weapon stats.
German Fronts Mod team: GMC truck
Uniforms/skins: Rapsodia, Ferry, and various other Filefront weapon and uniform skinners.
Iron Cross compass: PlusIce and Buckdich.
Maxim Machine Gun: Blacksmith mod.
Gimp 2.8: For making skinning and jpg to dds conversion loads easier
Infinity Ward/Activision: For making Call of Duty 2 a very moddable game, and for making a stable, and fun World War 2 game (but make some World War II games where we are the Axis for once!)
Real world SS, and Waffen SS, and Wehrmacht: Main menu song, in-game songs ideas, inspiration, historical reference, ranks, and more.
---Voice Acting Credits---
SS-Hstuf. Falkenburg: Vitrolic1
Schwarz: DarknessImmortal669
Instructions:
For installation Instructions consult the included readme file.
see more
Popular files for Call of Duty 2