Call of Duty: World at War - Nazi Zombie Mario 64 - Game mod - Download
The file Nazi Zombie Mario 64 is a modification for Call of Duty: World at War, a(n) action game. Download for free.
file typeGame mod
file size122.2 MB
downloads4522
(last 7 days)24
last updateFriday, July 27, 2018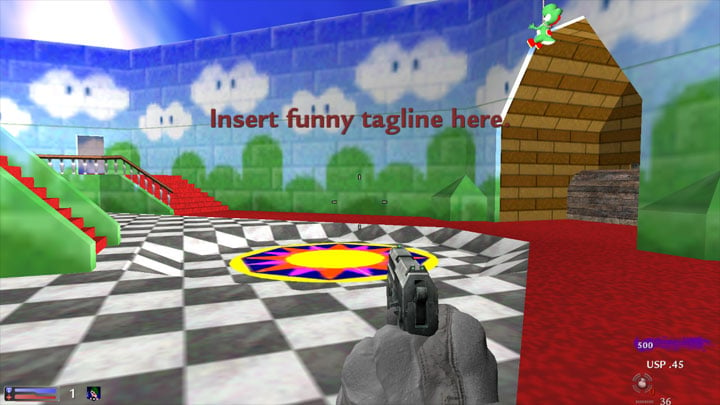 Nazi Zombie Mario 64 is a mod for Call of Duty: World at War, created by wwwmRappiidZz.
Description:
An old abandoned Super Mario 64 map by wwwmRappiidZz that is forever unfinished and difficult to find on the internet. For that reason, I am uploading the map here so it isn't lost entirely. While it may not be much, the ZCT mod does add some flavor, even if the map itself is unfinished and rough to play.
Instructions:
Extract to--
(XP)C:\Documents and Settings\YOUR_PROFILE\Local Settings\Application Data\Activision\CoDWaW\mods\
(vista)C:\Users\YOUR_PROFILE\AppData\Local\Activision\CoDWaW\mods\
**Yes all the files go inside mods\nazi_zombie_badlands, even the map**
Launch CoDWaW.exe, go to Mods and launch " nazi_zombie_Mario_64". You MUST launch the mod to play the map, there is no way around this.
Create a lobby and invite your friends who already have the mod. There is no HTTP Redirect or downloading off the host in Co-op. Change the server to Nazi zombie Mode and it'll be listed on map list.
SOLO Playing: If you wish to play alone then open console (~) and type "/map nazi_zombie_Mario_64". The number of zombies increases with more players so solo play is feasible.
Last update: Friday, July 27, 2018
Genre: Action
File size: 122.2 MB
see more
Popular files for Call of Duty: World at War