Quake 4 - Quake 4: Rivarez Mod v.19092018 - Game mod - Download
The file Quake 4: Rivarez Mod v.19092018 is a modification for Quake 4, a(n) action game. Download for free.
file typeGame mod
file size112.7 MB
last updateMonday, November 5, 2018
downloads158
downloads (7 days)7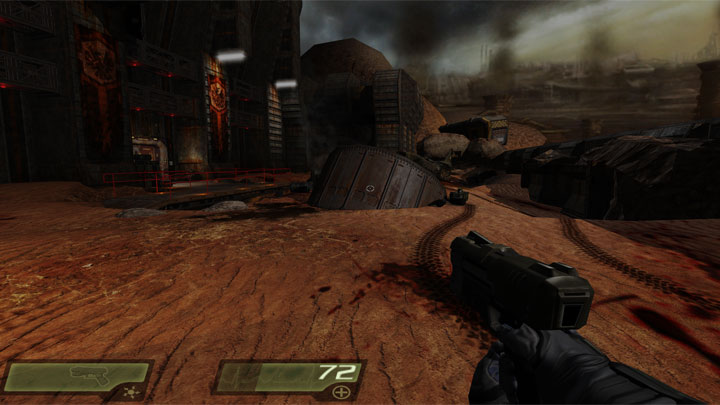 Quake 4: Rivarez Mod is a mod for Quake 4, created by Rivarez.
Description:
This mod makes changes in game graphics and gameplay. New hi-res textures was created, improved game graphic with fixed SikkMod. Weapons was changed to be most effective, gameplay was little changed to be more interested.
The mod makes following changes:
Installed and configured SikkMod for best picture quality (the best settings will be restored by clicking a "Default" button);
Fixed a bug in SikkMod 1.2 due to which the rounds number in weapon clip did not increased after "upgrade";
A high resolution textures (2048x2048) instead of old 512x512 was created for the planet surface;
Weapons changes:
Blaster have increased damage in normal (not powerful) shots;
Machinegun have reduced spread, a damage at zooming mode is same as damage at normal mode. At zooming mode the weapon can shoots with bursts. At zooming mode the spread is 2 times less than at normal mode;
Shotgun have reduced spread, a damage has also reduced (because at vanilla the damage from one buckshot is equal to damage from one machinegun bullet);
Grenade and rocket launchers have increased damage and damage radius;
Plasmagun have: reduced spread, increased damage, increased speed of plasma balls;
Lightning gun have increased damage;
Nailgun have: reduced spread, starts shoots immediately, without spinning up, increased damage, nails flies faster;
Railgun have increased damage, after modification a clip size increases from 3 to 5 shots and increases a fire rate;
Increased the maximum amount of wearable ammunition (optional).
Gameplay changes:
Does not disappearing: corpses, blood, brasses, bullet holes, plasma marks, marks of rockets, etc;
After transformation into a Strogg the height of jump is increased, also increased the height of obstacles on which itís possible to climb without jumping. 2 times increased the height from which itís possible to jump without receiving damage. In this regard you can slightly diversify a game passage: for example, now you can jump to where you can't jump at vanilla game;
At level when player 1st time faces with the tactical stroggs, they appears and attacks immediately at level start, not at triggers;
At level where player releases a technician from prison, the technician does not upgrades the nailgun. Also removed a default railgun upgrade on the map. Now player can take upgraded nailgun and railgun at the post of weapons delivery on a spaceship when player get there the 2nd time.
Game menus changes:
Choosing the "Default" settings sets an optimal game settings including SikkMod and other changes, the key assignments does not changes;
Anisotropic filtering setting has been added to additional video settings;
Removed the "Enhance lighting" option, that brightens the brightness and disables shadows;
SikkMod settings moved to additional video settings;
The "Invert mouse" option has replaced with a "Mouse acceleration" option.
Instructions:
Extract and copy the Ąq4base to gameís main folder.
Report problems with download to support@gamepressure.com