Europa Universalis IV - Dzo's Complete Colonial Control v.24122019 - Game mod - Download
The file Dzo's Complete Colonial Control v.24122019 is a modification for Europa Universalis IV, a(n) strategy game. Download for free.
file typeGame mod
file size305.7 KB
last updateSunday, March 15, 2020
downloads118
downloads (7 days)3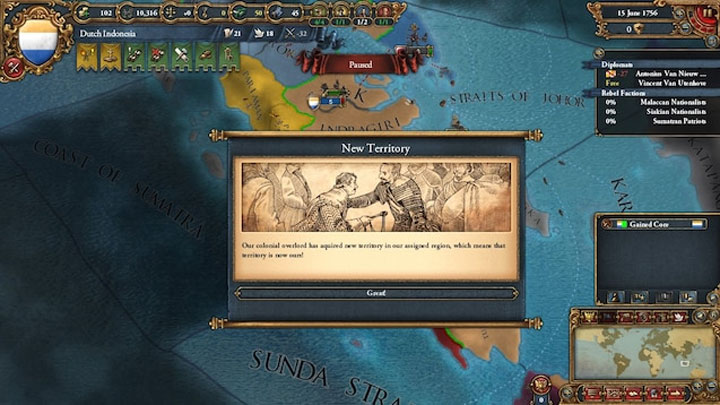 Dzo's Complete Colonial Control is a mod for Europa Universalis IV, created by Dzokagiven.
Description:
his is my updated version of the mod Complete Colonial Control created by Delincious in 2015
Should be compatible with any mod that doesn't change provinces, colonial regions, or trade companies.
Features:
From the original mod:
New functionality in colonial regions, allowing the player to choose between Crown Colonies, Colonial Nations, and Trade Companies in every colonial and trade company region in the game!
A total of 66 coloniazable regions, covering the entire world, each fully compatible with the new selection system.
Removal of the old colonial system. Colonial decisions for the region are made upon gaining the first core in that region.
AI integration, the AI will also choose what they want in each region. Bordergore ahoy!
An explanation of how the system works (From the Global Colonial Nations mods, by China Magyne): This mod allows Colonial Nations to form anywhere in the world. In order to see how the world is divided, check the Trade Company mapmode. The Cossacks update made Colonial Regions a pain, because it added a block to forming Colonial Nations while your capital is in a Colonial Region. This mod gets around it by firing an event when you have overseas provinces to pick up a dummy province outside of the game's reach. This dummy province is in a Colonial Region, which will trigger the event for one to form. Once it has formed, another event will fire, ceding that dummy province and granting the Colonial Nation all the territory in that Trade Company area. Subsequent events will lead to provinces in that area to cede to your Colonial Nation.
Instructions:
It should work in the 1.28 and 1.29 versions. How to install: Copy the file to: Documents\Paradox Interactive\Europa Universalis IV\mod. Open the file (.zip), and copy "dzo_ccc_128.mod" to the same \mod folder.
see more
Popular files for Europa Universalis IV