Victoria II: Heart of Darkness - Victoria Universalis v.0.21 - Game mod - Download
The file Victoria Universalis v.0.21 is a modification for Victoria II: Heart of Darkness, a(n) strategy game. Download for free.
file typeGame mod
file size141.3 MB
last updateMonday, June 22, 2020
downloads77
downloads (7 days)5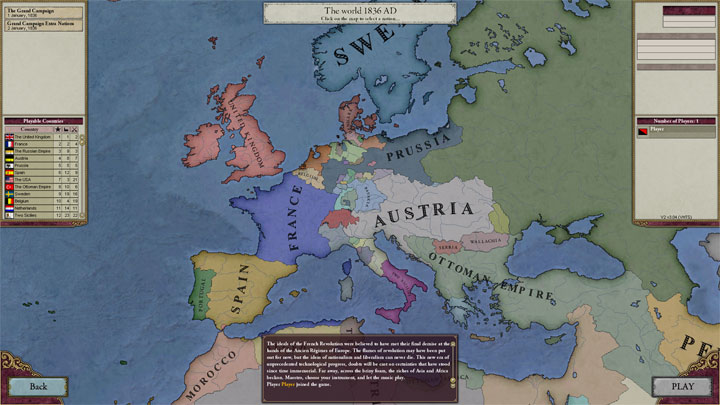 Victoria Universalis is a mod for Victoria II: Heart of Darkness, created by Vic1984.
Description:
This is a mod designed to give the player ultimate control over their country and POPs. Most random events are gone, instead replaced with re-useable decisions. These decisions cost admin points (new resource) to activate. The decisions can affect either country, state, or province level targets. You choose which targets the decisions target with my new Province Selector™ system. You must first build a Province Selector building in a province or state you want to target, and then you can use any of the new decisions. There are over a dozen new decisions and they range from changing goods in a province, forcing POPs to migrate to select locations, lowering militancy in a state, increasing assimilation in a state, and many more.
New factory goods are introduced that make use of wool, tea, coffee, and tobacco RGOs. Goods are rebalanced across the board to ensure that there is demand for all goods at every stage of the game. The economy has been overhauled and several bugged money sinks have been removed from the game to increase liquidity in the global market. In exchange for the better economy that all countries have, the price of things like military units and social spending have been increased dramatically to give countries something to spend that extra money on and give the player an extra challenge.
Immigration has been split into 2 different pools: a North America + Oceania pool and a South America pool. At least the top 3 countries in each hemisphere will get immigrants as long as they are constitutional monarchies or democracies, so you can have 6-8 countries in the new world getting immigrants at once instead of just the top 3 like in vanilla.
Non accepted POPs will no longer be able to join non nationalist rebel movements. This means that you can't get communist Indian rebels as the UK for instance. Instead they will always turn into nationalist rebels that will gain independence should they occupy all their core provinces.
The secondary power list was extended by 8 more places so 9th-24th place can colonize now. Small nations have also been given numerous small buffs to make them more playable. If you enjoy playing smaller countries you'll find you have a lot more tools available to you now.
The general system has been revamped. Now, instead of having to hover your mouse over a general to see his traits, your generals will spawn with a random list of +X attack and +Y defense values that are color coded and listed clearly in the space where their traits would have been listed previously. This means you can see exactly what attack/defense stats all of your generals have without having to hover your mouse over each individual general. All generals can only spawn with positive traits now too, and they range from +1 to +5. +1 stats are black, +2 are blue, +3 are green, +4 are red, and +5 are white. The cost of recruiting a general has been doubled to balance the fact that you can only roll good generals now, and the odds of getting a high stat roll get exponentially smaller the higher the value.
The map textures have been changed so that you can now clearly see state borders, country borders, impassable borders, and rivers all on the political map. State borders are thick solid black borders, country borders are solid red, impassable are solid blue, and rivers are light blue.
Reforms and African countries from HPM are included. Almost every country has been given extra events and/or decisions. Many of them are inspired but not directly copied from HPM. Some countries such as China or Ottomans have new mechanics introduced that make them play differently than others. In terms of realism, you should expect to see more realistic borders than vanilla, but less historical than HPM.
see more
Popular files for Victoria II: Heart of Darkness