Half-Life 2: Episode Two - HL2 Asda v.19082019 - Game mod - Download
The file HL2 Asda v.19082019 is a modification for Half-Life 2: Episode Two, a(n) action game. Download for free.
file typeGame mod
file size45 MB
last updateTuesday, July 7, 2020
downloads24
downloads (7 days)1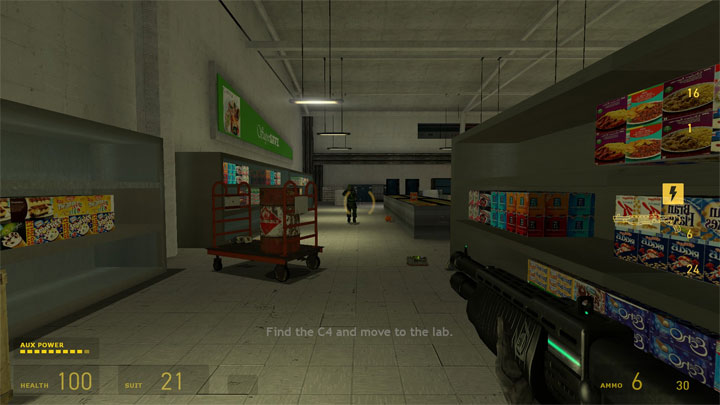 HL2 Asda to is a mod for Half-Life 2: Episode Two. Originally it was created by Mike Knowland AKA Dryn. Then citizen_17 reworked it so that itís compatibile with modern Steam.
Description:
Story
Set in 2030, global warming and an upsurge in population growth have taken their toll on humanity. In a world of dwindling food resources an increasing amount of large corporations try to find ways to sustain profits. Numerous ASDA shopping centres across the UK have secretly begun to abduct citizens and carry out inhumane tests to try to find a means of creating a perfect food product using alternative resources to that which have suffered over the past 23 years. In an attempt to keep this illegal operation covert, the multi-billion dollar business Wal-Mart based in America (who own ASDA) developed its own military and special police force that are currently in operation at all major Wal-Mart stores.
Stafford ASDA has become one of the most active and dominant locations for the experiments to take place as a result of several secret agents working on ASDAs behalf who successfully infiltrated and swayed the local police force into corruption.
After numerous abductions you fall victim to the hand of ASDA when you return home from work to find your wife and child missing. The police fail to satisfy your questions to find the truth, but the tides turn in your favour one night at a bar, when a sympathetic ASDA employee overhears your conversation with your friend. Feeling guilt under the weight of his immoral actions working for ASDA, he agrees to help you, supplying you with all the inside information you need to take revenge.
You make plans to infiltrate ASDA using the sewer entrance alongside the river bank using a keycard carefully concealed by your informant from the guards. Once inside you will then have to work your way up to the main floor; where you will need to locate a gas valve that has to be released in order for the main door leading to the experiment areas to become unstable and open. Your inside man has also agreed to hide a C4 explosive inside the main shopping area after you agree that it is too risky to try to get the explosives in safely and quietly through the river and sewer way. Once you acquire the explosives you must use it to destroy the core power and test silos at the far end of ASDA from where you entered, and then escape. The inside man has also informed you that he thinks there might be a teleporter located somewhere near the silos, which ASDA secret agents use to quickly get out into the Car Park area or to other ASDA stores, although it is likely to be unstable and inactive.
In preparation for your attack you set of several explosives at key road points at the surrounding area the night before, to encourage civilians away from ASDA.
Instructions:
Put it into steam/steamapps/sourcemods and restart Steam
see more
Popular files for Half-Life 2: Episode Two