Heretic - The Wayfarer - Game mod - Download
The file The Wayfarer is a modification for Heretic, a(n) action game. Download for free.
file typeGame mod
file size17.1 MB
downloads68
(last 7 days)2
last updateTuesday, February 9, 2021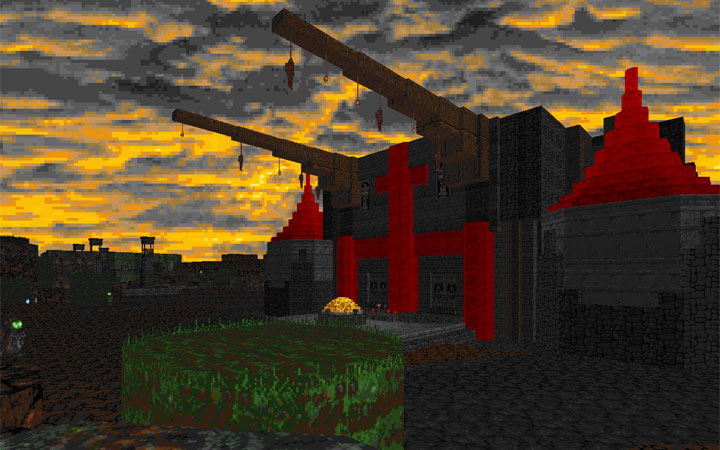 The Wayfarer is a mod for Heretic, created by Not Jabba.
Description:
The Wayfarer is not your grandparents' Heretic. It includes a built-in gameplay mod that rebalances the game in ways that are mostly subtle but make the game a lot more engaging to play. Many enemy attacks are more dangerous, and most of the player's weapons are more powerful, allowing certain weapons to have more useful combat niches and eliminating the grindiness associated with vanilla Heretic's weapon/monster balance. The episode also features two new standard enemies, two new artifacts, a new weapon, plenty of custom decorations and textures, and more.]
STORY:
Your name is Corvus, and because no one has spoken it in so long that you have nearly forgotten, it has become a watchword within your soul, an object of great importance to you. But among the servants of D'Sparil, who still sometimes speak the old tongues of men, you are known simply as the Wayfarer. To them, you are an almost mythical figure, a force of aimless, wandering retribution, leaving behind a weave of destruction like a termite boring endless paths through a wooden wall. You have destroyed their master, and they no longer know what you seek.
What you desire is a purpose: a ragged band of survivors to unite, or perhaps, failing that, some other realm to protect, some greater vengeance to bring down upon the demons that still stalk among the stars. But though you have crossed the continents of the Seven Nations and forayed into far stranger realms, you cannot find another living soul -- only an empire of soulless husks and mindless automatons, hunkered into an endless succession of dark fortresses and ruined cities.
You have all but abandoned hope when you come across the first sign: a campfire, weeks old and all but buried. Casting about, you pick up the trail, a series of signals that have been left for only a master tracker to find. You follow the trail for many days, at last finding the source among the broken cliffs of a secluded seaside. She is an old ranger, a Sidhe like yourself, and she is in her final hours, the wound in her side reeking of foul poison.
Before she succumbs, she tells you all she knows: across the water lies the Onyx Citadel, the greatest of D'Sparil's fortresses in this realm. Somewhere within its walls, the High Disciple of D'Sparil keeps the Serpent Gate, the path by which D'Sparil and his brothers came to the world and by which the two elder Serpent Riders left in search of other conquests.
The old ranger has hidden a boat in the rocks below. It is small, but you will need stealth to make the crossing without being overcome on the water. And so you make the journey, following the path the old ranger laid out for you. Beyond the Bridge of Karazan is a small port, weakly defended, and if you can gain a foothold there, the way to the citadel will be open to you. You float into the harbor in total silence, oars shipped, cloaked in shadows, barely daring to breathe. But at last, you stand upon the docks.
You take a deep breath, mourning for the old ranger, and for all of your people who are lost. But you also feel a fire burning deep inside you, and you know that nothing will stop you from slaying the High Disciple and claiming the Serpent Gate. And then, the world of Parthoris and the stars themselves will be at your fingertips.
Instructions:
To run this use GZDoom.
Last update: Tuesday, February 9, 2021
Genre: Action
File size: 17.1 MB