Rome: Total War - Wars of the Peloponnesus v.23042021 - Game mod - Download
The file Wars of the Peloponnesus v.23042021 is a modification for Rome: Total War, a(n) strategy game. Download for free.
file typeGame mod
file size232.6 MB
downloads71
(last 7 days)19
last updateSunday, May 2, 2021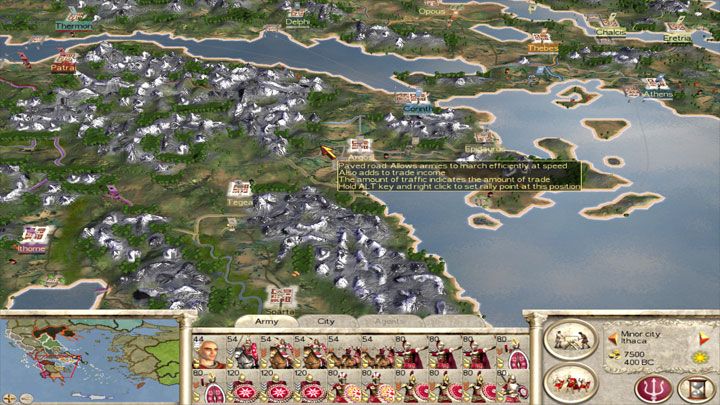 Wars of the Peloponnesus is a mod for Rome: Total War, created by Eduardo_Sousa.
Description:
This mod places the game in an ancient greek ambient, with 20 new or reworked factions that include ancient greek city-states and empires such as Macedon or Persia. It intends to keep a vanilla Rome Total War feel about it, with the models, UI and mechanics being very similar to the vanilla game. The map itself is based around the Greek region, with islands such as Crete or Rhodes and the Western part of Anatolia. Every faction, altough having a considerable portion of vanilla units, has its own unique units, most of which are new. I'd like to thank everyone on the Rome Total War Community Discord Server for their help throughout the making of this mod, and especially to Discord users Lanjane, Sirrianus Dagovax, Solón de Atenas and JewJudea99.
Instructions:
Please follow these instructions as carefully as possible to avoid errors.
Open your Rome: Total War root folder:
This PC\OS (C:)\Program Files (x86)\Steam\steamapps\common\Rome Total War Gold for the Steam version
This PC\C:\Program Files\Activision\Rome - Total War for the disk version
Now, copy the greek_war folder from the downloaded .zip file, and paste it into your root folder.
Open the greek war folder inside your root folder, and use the Wars of the Peloponnesus.bat file
to launch the mod.
In order to not have to go to that folder everytime you start the mod, it is recommended to create
a shortcut to that .bat file and place it in your Desktop (or where it would be easier for you to
have it).
If you encounter any type of issue while starting or running the mod, please
contact Discord user Eduardo Sousa #7604.
Last update: Sunday, May 2, 2021
Genre: Strategy
File size: 232.6 MB
see more
Popular files for Rome: Total War