ScummVM v.2.5.0 - For the gamers - Download
Utility software, For the gamers, called ScummVM v.2.5.0 available for download for free.
file typeFor the gamers
file size84.4 MB
downloads75
(last 7 days)29
last updateTuesday, October 12, 2021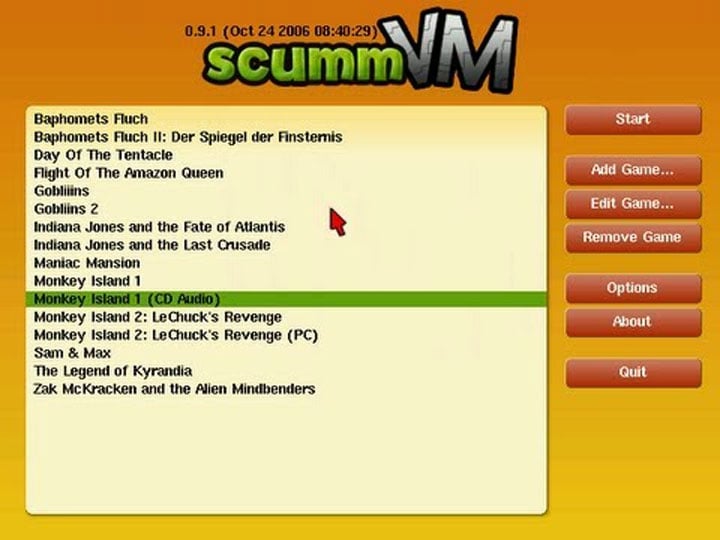 ScummVM to open-soure'owe narzedzie pozwalające na uruchamianie wybranych starych gier na współczesnych pecetach i w ulepszonej formie. Jeśli projekt przypadnie Ci do gustu to warto rozważyć wsparcie jego autorów za pośrednictwem.
ScummVM is a program which allows you to run certain classic graphical adventure and role-playing games, provided you already have their data files. The clever part about this: ScummVM just replaces the executables shipped with the games, allowing you to play them on systems for which they were never designed! ScummVM is a complete rewrite of these games' executables and is not an emulator.
ScummVM supports a huge library of adventures with over 250 games in total. It supports many classics published by legendary studios like LucasArts, Sierra On-Line, Revolution Software, Cyan, Inc. and Westwood Studios. Next to ground-breaking titles like the Monkey Island series, Broken Sword, Myst, Blade Runner and countless other games you will find some really obscure adventures and truly hidden gems to explore.
Support This Project
You may support the project by expressing your excitement in the form of a donation via PayPal.
Instructions:
In this archive you will find only Windows installer. For other versions, including Linux, macOS, iOS, Android, PS Vita, Switch, Dreamcast, AmigaOS, Atari/FreeMiNT, RISC OS, Haiku, PSP, PS3, Maemo and GCW Zero visit official website.
Last update: Tuesday, October 12, 2021
File size: 84.4 MB
Other tools: For the gamers