Lionheart: Legacy of the Crusader - Weng Choi Mod v.3112022 - Game mod - Download
The file Weng Choi Mod v.3112022 is a modification for Lionheart: Legacy of the Crusader, a(n) rpg game. Download for free.
file typeGame mod
file size4.3 MB
downloads90
(last 7 days)5
last updateTuesday, November 29, 2022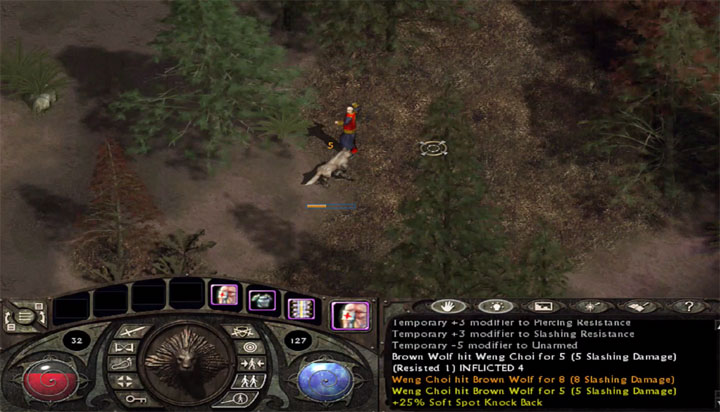 Weng Choi Mod is a mod for Lionheart: Legacy of the Crusader, created by LionheartJW.
Description (in author's own words):
Have you ever wanted to whoop some demons and goblins with the Barcelona shopkeeper Weng Choi? Well this mod allows you to do just that. Fitted with his own sounds and animations, Weng Choi rolls up the sleeves to take on the dark world of Lionheart as the Spirit Bearer. The mod also comes with a playable female counterpart, Mei. She also has her own animations and sounds, but is meant to function similarly to Weng.
DISCLAIMER: Thank you for downloading! This is fan-made LLOTC mod, purely for fun and curiosity. All original content and art belongs to Reflexive Entertainment and Black Isle Studios. Please note that this mod is designed for players who have already experienced the game in its original form.
OVERVIEW OF CHANGES:
-Male Character Model changed to a playable version of Weng Choi. He is slightly bigger than the NPC version because he's not inside shopkeeping all day.
-Female Character Model changed to Mei. She functions similarly to Weng Choi and is meant to be a playable female counterpart.
-Equipment is hidden to maintain character appearances. Weng and Mei are able to channel the strength of their equipment directly into hand combat. Their techniques will vary depending on the type of weapon chosen.
-Custom animations and sounds for attacks/spellcasts/reacts/deaths.
-Bow and Crossbow inventory item files modified to properly launch projectiles with the 3D character models.
- Weng Choi and Mei are pre-existing characters with set stats, but the player can also make custom characters that maintain the cosmetic appearance of Weng Choi and Mei.
HOW TO USE THIS MOD:
1. If you have a modern copy of Lionheart: LOTC, make sure you extract the data.DAT file into a data folder with a program like 7zip. This will allow you to modify certain parts of the game code, albeit very limited.
2. Create a backup of all the game files so you do not lose the original game. This mod may be incompatible with other mods, due to the nature of modding a closed-source game.
3. To apply the mod, replace the existing game files with the corresponding files inside the mod folder. Edit the names as necessary for the game to recognize. Refer to the following file paths if needed:
Replace Player Characters (Male/Female with Weng Choi/Mei models):
C:...\Lionheart Legacy of the Crusader\data\Resources\Models3D\Player Characters
Replace Inventory Items:
C:...\Lionheart Legacy of the Crusader\data\Resources\Inventory Items
Replace PLAYER (Folder inside of Sounds to override male voice with Weng):
C:...\Lionheart Legacy of the Crusader\data\Sounds\PLAYER
Replace Pre-existing Characters:
C:...\Lionheart Legacy of the Crusader\data\Resources\Preexisting Characters
Replace Weapons:
C:...\Lionheart Legacy of the Crusader\data\Resources\Models3D\Weapons
Last update: Tuesday, November 29, 2022
Genre: RPG
File size: 4.3 MB
Files for Lionheart: Legacy of the Crusader