Game review
12 November 2019, 22:50
author: Przemyslaw Zamecki
Age of Empires 2: Definitive Edition Review – Old But Solid Gold
Attractive, good, mature strategy game is looking for a player! Despite the twenty years that have passed, the new Age of Empires II: Definitive Edition still manages to deliver an amazing experience.
More fixes and user interface
In addition to visuals and graphical marvels, it was also important to adapt the old-school user interface to a slightly newer model. By that we mean a more solid and modern UI which is better suited to its purpose.
In the menu there is a new option to scale the user interface, which is a very good idea especially for newcomers, who are not yet familiar with the in-game hotkeys. Enlarging the icons allows you to get a better understanding of their functions; for a change, professionals can get rid of the main interface almost completely. By the way, concerning the keyboard shortcuts – now you not only have the possibility to modify key bindings, but also to create separate profiles, which will surely be appreciated by those who develop their own command systems. Also, it is possible to quickly select all units or buildings of a given type on the map and to delete them with one press of a key.
The animation of the collapsing castle looks fantastic.
On the upper bar of UI we can check how many people we can recruit before we run out of living houses. An additional and extremely useful icon will show us how many villagers are unemployed. By clicking on it, the game takes us to each of them (one by one) and we are able to assign them a task.
There is also a new feature – queuing of tasks, thanks to which it is possible to plan the next actions of a given unit in advance. All buildings under construction or technologies which are currently being developed are shown at the top of the screen. This allows you to quickly understand the current situation.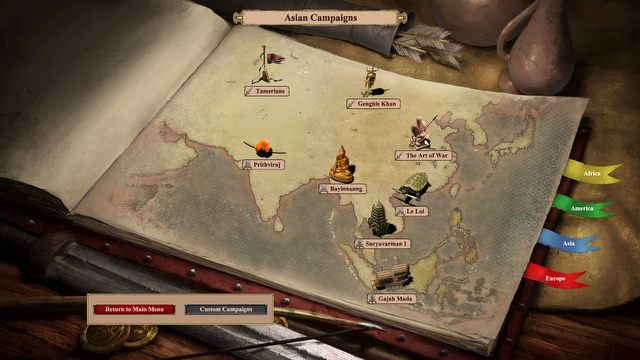 New factions mean new campaigns for one player.
Select army feature has been improved. Not only you can see how many units you have marked, but you can also make sure that workers will not be included in a massive group of selected soldiers. It helps a lot! Especially when you have to quickly react to the unexpected circumstances.
One of the coolest improvements is the opportunity to renew a farm after it runs out of stocks. Simply check this option and you no longer have to worry about the supply of food. It seems so strange that no one have come up with such an idea twenty years ago. It was a really annoying issue.
AI
We've received an updated AI in the HD edition of the game, but in the Definitive Edition the artificial intelligence system has undergone some major polishing. I got the impression that the AI-controlled enemy doesn't focus so much on performing one task after another, but rather acts in a more dispersed and aggressive way. Employees are not directed to perform only one activity after another in order to advance into the next era. However, it doesn't mean that the redesigned AI is slower than the old one. It tries to balance the economy and prioritizes tasks in a much better way. During the individual battles, the game allows you to choose which AI scripts should be used by particular civilizations – whether they should use those from the original version, the HD version or the latest version of the game. I encourage you to conduct your own experiments with the new AI system. It can be a quite addictive and fascinating activity.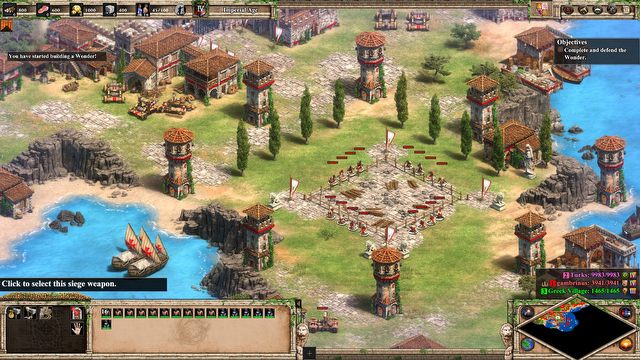 The plebeians in a joint effort to build a miracle of the world.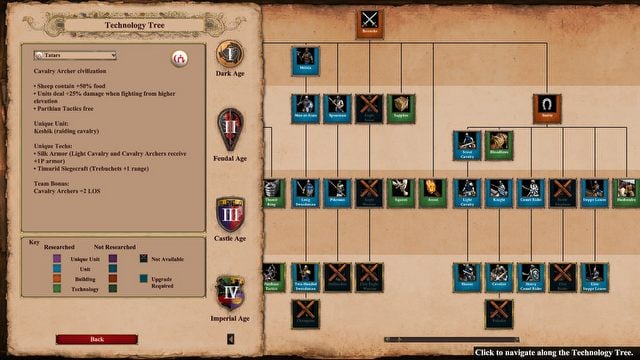 A technology tree and one of the new civilizations.
Another great new feature is the possibility of giving commands to allies when playing 2vs2 scenarios. The number of available commands is overwhelming (around a hundred or more) and they concern issues such as – request for training of a particular type of units, sending a specific type of troops into the field, requesting support in an attack, asking an ally to focus on a certain type of production or even construction of a wall at designated location. You will have to spend a lot of time if you want figure it all out. Most importantly, the system seems to be working quite decently.
Other important novelty is the introduction of a new level of difficulty. Despite its name, Extreme difficulty doesn't make the game that hard. It is rather a cosmetic trick, designed to balance the difficulty levels available in the game, so that they are not as mixed as before. So, the Extreme difficulty level is very similar to the Hard one, known from the previous edition of the game. Either way, a challenge shall remain a challenge.