Game review
12 November 2019, 22:50
author: Przemyslaw Zamecki
Age of Empires 2: Definitive Edition Review – Old But Solid Gold
Attractive, good, mature strategy game is looking for a player! Despite the twenty years that have passed, the new Age of Empires II: Definitive Edition still manages to deliver an amazing experience.
Revamped multiplayer
Speaking of challenges. In DE, you will take part in challenges which consist in achieving certain objectives as quickly as possible – for example, advance to the next era. New adepts of the series should devote their time to study the basics of game mechanics, if they intend to fight against a real opponent in a multiplayer duel. The standard tutorial, which is also a Scottish campaign against the English, turns out to be a complete joke. By no means it will prepare you for a multiplayer battle.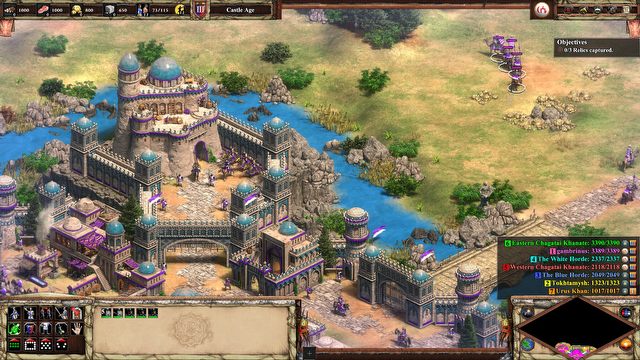 The new graphics are extremely attractive.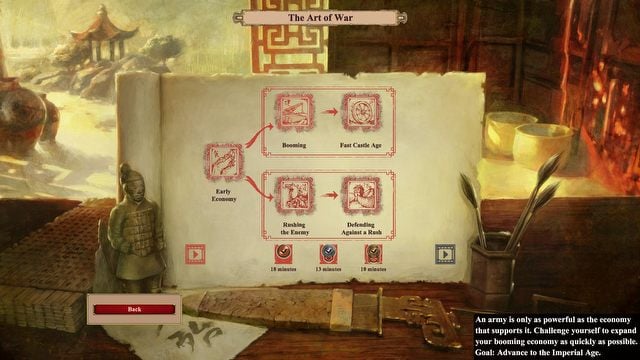 The Art of War section allows you to practice in special challenges.
Before we move on to more details about multiplayer mode, I should point out that the whole element of the game was completely redesigned. No more peer-to-peer connections. Instead, game designers have prepared multiplayer servers which should provide a much smoother and lag-less experience. At least nothing like that has happened to me during my gameplay experience.
The appearance and functionality of multiplayer's lobby has been modified. Now we can create private and password-protected game sessions. Among the new features there is a possibility to watch multiplayer sessions of other people as a spectator (there can be virtually any number of people watching). The new map selector makes it easier to filter them or create your own sets. Finally, the updated matchmaking system should allow for a better choice of rivals due to the more specific search criteria. It would require much more time, than I had after the game's release, to get to know all these novelties and innovative solutions which I have described above. Despite that, I have to admit that everything I've tested worked very well.
A multicultural game
The title of Definitive Edition obliges to introduce something more than just updated graphics, interface, AI and redesigned multiplayer. The developers have managed to collect all expansion sets – including all civilizations that appeared in each add-on. Moreover, they have added some extra content. Thanks to that, twenty-four campaigns are awaiting you in the single player mode! In other words, it's hundreds of hours of fun! Four new civilizations have been added to those already existing in the standard version and numerous add-ons. Also, three of them have received unique campaigns. Despite the fact that game designers have decided to take an easy way and based the military power of all new nations on cavalry, we should be grateful that they've expanded the already diversified pool of civilizations.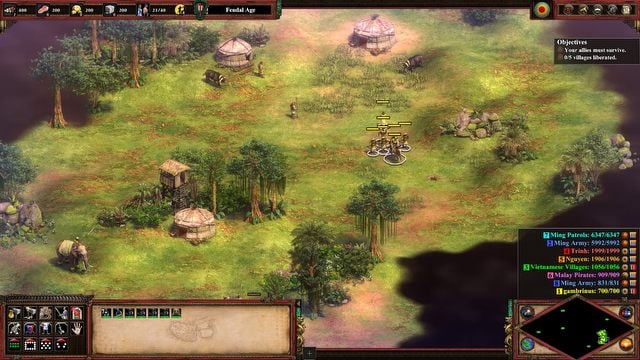 The combat power of elephants cannot be overestimated.
For the first time we can take on the role of Lithuanians (unfortunately, this nation was deprived of unique campaign). Also, we can play as Tatars, Bulgarians and Cumans. The latter are well-known from Kingdom Come: Deliverance. I've played all new campaigns and from what I've seen so far, all new nations are a bit overpowered in comparison to their opponents. Or I'm a born leader and a talented strategist? I'm kidding, but I wouldn't be surprised if the new nations were properly balanced in a patch that may be released in the nearest future (especially in the context of multiplayer matches).
A smiling walking dead
I'm aware of the fact that I haven't managed to catch and indicate all the differences in comparison to the original. I only hope that I've noticed most of them, and have suitably described them in this review. Age of Empires II Definitive Edition is a fantastic product for the fans of strategy genre. It was successfully redesigned and refreshed by Forgotten Empires and most certainly it won't go unnoticed – at least by fans who enjoy this type of entertainment and are not afraid of older game mechanics. It resembles a living (walking dead?) corpse that's still quite attractive and was mummified in perfect conditions. So, it's going to last for at least few years more. I write about it with a lot of sympathy because I like how nicely it was preserved. Also, I hope that it's a promising sign before the release of the four installment of the series that's awaited by many home-grown tactical leaders.
ABOUT THE AUTHOR:
I spent several dozen hours with the game, during which I've managed to check new campaigns in single player mode. Also, I've devoted a lot of time to play various scenarios against AI-controlled opponents or other players. In my private life I'm not a very keen fan of RTS games because I prefer a turn-based gameplay. Despite that, I respect the Age of Empires series for the great contribution it made to the development of this interesting genre.
DISCLAIMER
We have received a copy of the game from Microsoft – official publisher of the game.
Przemyslaw Zamecki | Gamepressure.com