Movies & Series
05 September 2020, 18:00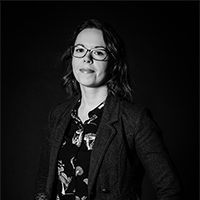 author: Ann Garas
The Real Monsters were Racists – Lovecraft Country is Scary in Its Own Way
"Stories are like people," says the hero of HBO's Lovecraft Country, "They're never perfect, but you love them despite their flaws." This is how he explains how a Black American can like a book, in which a racist is saving the day.
Enter the Cthulhu
Soon thereafter, a monster with multiple eyeballs arrive with a bang, and the horror becomes different, safer, more familiar, less unpleasant, because while getting eaten by monsters with multiple eyeballs and long tentacles is objectively much less probable than getting shot by the police for no apparent reason.
The feeling you get when you're unwelcome somewhere. Like, say, a regular bar.
Lovecraft Country neatly intertwines both kinds of horror – the fantastic (with curses, haunted houses and members of secret fraternities swooping in ceremonial robes) and the realistic. And while the villains are often met with karmic justice, sometimes even by the victims themselves – after all, this is still an entertainment spectacle, not a parade of suffering – these scenes of justice delivery are not accompanied by the belief that everything will be all right from then on. Unlike in classic horror, here killing a racist – or any other monster – does not solve the problem, because the problem is the racism-soaked society itself – it's the entire country made up by Lovecraft.
Run!
Jordan Peele's horror is based on a simple idea – nothing is as scary as the day you have to meet your girlfriend's parents. It's even worse when it comes to spending an entire weekend in the fumes of family drama. To make it more dramatic, imagine the boy is black, and his girlfriend's parents are white.
Of course, typical horror tropes are here as well, but the core is always the use of the genre as a backdrop to depict racial tensions. Run! it's more intimate – in the first episode of the show, we have two chases, a shootout and a decapitation by teeth, and yet the action is just getting started – but both share the same constatation: that no matter what we find as scary, it's always the result of what group we belong to.
The pacing here is really good, with the intense scenes of horror balanced out by moments to catch your breath.
Each episode follows a different convention – there's Dracula, Dr. Jekyll and Mr. Hyde, and even a treasure hunt like in Indiana Jones – various intrigues combine and tangle, but what pushes the series and catches the screen, above all, are the characters. Jonathan Majors as Tic particularly draws the attention, balancing between determination and sensitivity, repressed anger and sheer helplessness. Jurnee Smollett-Bell as Leti steals the entire third episode, turning it into the theatre of one very angry actress.
The supporting roles are also really good: alongside the mysterious legacy and Lovecraft ghouls, we have a well-written family drama, a few dead bodies in the closet, life problems and romances in various configurations. The character of Uncle George, performed by Courtney B. Vance, the moral backbone of the group – though he also has his secrets. No one is innocent, not even – or rather: especially not – the dazzling beauty, Christina Braithwaite (Abbey Lee), a mysterious and scheming resident of Ardham.
Christina looks like a character from a completely different story – for a good reason.
Fans of the era will love it because visually, Lovecraft Country is wonderful – from polished interiors to costumes and cars – ah, those cars! The meaty brutality, at times grotesque, at times so unpleasant that I want to turn my eyes away was really impressive. In the musical department, as with the cast, we have mostly black artists – from Nina Simone, whose Sinnerman closes each episode, to Rihanna's daring use of the song Bitch Better Have My Money.
Let's go back to the words Tic quoted by me at the beginning and consider: who happens to have fantastic adventures, who happens to be the main character – and who doesn't. Jordan Peele both in Get Out and in Lovecraft Country, of which he is an executive producer, proves that to bring a breath of freshness to the genre, it's enough to bring in new people and new perspectives on storytelling. This gave us a solid, bold spectacle, perverse and at times uncomfortably relevant.
ABOUT THE AUTHOR
I like horror movies – especially when the creators can tell scary stories in an original way, as they did in sun-bathed Midsommar or the claustrophobic The Lighthouse. I don't like jumpscares and I don't like dogs appearing at the very beginning of movies, for they're usually killed soon thereafter, spoiling the rest of the film for me :(.
Ann Garas | Gamepressure.com