Anno 2070 Expansions & DLCs
Game Expansions and DLCs available for Anno 2070 Video Game.
Game Expansions for Anno 2070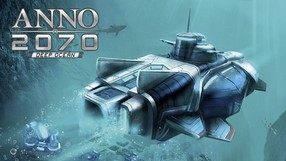 Anno 2070: Deep Ocean
Strategy 04 October 2012
An official expansion for the 2011ís economic simulation game, Anno 2070, developed cooperatively, just like the vanilla game, by two German studios: Blue Byte Software and Related Designs. Deep Ocean introduces a new civilization level, thanks to which the technological faction was enriched with a previously unavailable social class of geniuses. Its appearance gives us access to hitherto unknown elements such as monuments, production chains, consumer goods, vehicles, and items that can improve the economy, gather new resources, and build a true industrial powerhouse. The title also offers numerous minor novelties that include 150 challenging tasks, the possibility of peaceful conquest, undersea geothermal power plants, the ability to transfer energy between islands as well as a completely new threat in the form of powerful tsunamis.
DLCs for Anno 2070
PC
The E.V.E. Package
DLC 14 May 2012
PC
The Nordamark Line Package
DLC 14 May 2012
PC
The Silent Running Package
DLC 14 May 2012
PC
The Distrust Series Package
DLC 26 March 2012
PC
The Central Statistical Package
DLC 26 March 2012
PC
The Crisis Response Package
DLC 26 March 2012
PC
The Development Package
DLC 13 February 2012
PC
The Eden Series Package
DLC 13 February 2012
PC
The Keeper Package
DLC 13 February 2012