Democracy 3 Expansions & DLCs
Game Expansions and DLCs available for Democracy 3 Video Game.
Game Expansions for Democracy 3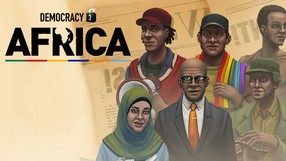 Democracy 3: Africa
Strategy 12 April 2016
A standalone expansion to the third installment in the Democracy series, which debuted in 2013 through the efforts of Positech Games, the studio that developed previous entries in the franchise. Unlike the main games, Democracy 3: Africa takes us to Africa, where we take the role of a leader of one of ten countries, facing completely new challenges due to different nature of living in that region. A turn-based gameplay, where we make decisions that have a major impact on our country and its society, using a massive amount of tables, schemes, and graphs. We have to cope with problems like poverty, hunger, corruption, and providing access to drinking water, education, and health service. Quite often we get support from developed countries, which provide help with resources or investments.
DLCs for Democracy 3
PCiOS
Extremism
DLC 13 May 2014