GameCube Simulation Video Games
Simulation games. These titles put emphasis on simulating authentic (or fictional) actions in the most realistic manner possible. They allow the player e.g. to control civil (digger, crane, bus) or military vehicles (plane, tank, warship). Life simulation games (especially The Sims series) are very specific example of titles in this category, because they can simulate almost infinite number of aspects of human lives. more

The Sims (GCN)
Simulation 14 January 2003
A bestselling life simulator developed by Maxis, a studio that specializes in the genre (they've created SimCity, SimTown and other titles). The Sims enables the player to take care of a virtual family of Sims. During the game the player must take care of various needs of his characters – starting with typically physiological ones (eating, toilet, hygiene etc.), through social relations, to career.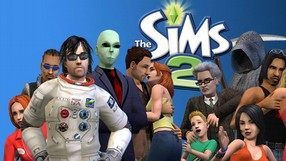 The Sims 2 (GCN)
Simulation 24 October 2005
A sequel to the bestselling human life simulation game – The Sims (2000). The Sims 2 was developed by Maxis Studio (SimCity, EA Land, and others) in cooperation with the Electronic Arts company. Players again take care of virtual characters leading them through their entire lives – from early childhood till elderly age. The main goal is to achieve as high Life Score as possible, which stands for how well a sim leads his/her life.

The Sims: Bustin' Out (GCN)
Simulation 16 December 2003
The Sims: Bustin' Out is a game combining elements of adventure and life simulator. The production is the responsibility of the Maxis development studio team. Players direct the actions of a teenager (boy or girl) who found himself on his uncle's farm to learn many useful skills in life.

The Sims 2: Pets (GCN)
Simulation 17 October 2006
The fourth expansion for the popular game The Sims 2, in which you control the daily lives of player-created characters. As the title suggests, the expansion adds various pets to the game: from dogs and cats to guinea pigs, fish, hamsters and birds. You can design your pets just like your human Sims. They can also wear many accessories, such as scarves and collars.