DS Adventure Video Games6
Adventure games. They include three fundamental elements: exploration, solving puzzles and strongly emphasized story. Controlled characters collect items and use them in puzzles in order to push the story further. Adventure games usually offer only single player mode and the point-and-click interface. This category includes also HOPAs (Hidden Object Puzzle Adventure games) which put emphasis on searching items hidden on the screen. more

The Mysterious Case of Dr. Jekyll and Mr. Hyde (NDS)
Adventure 09 August 2011
The Mysterious Case of Dr. Jekyll and Mr. Hyde is an adventure game produced by the German Joindots studio addressed to a wide range of customers from the so-called casual market. The player takes on the role of Inspector of Scotland Yard and travels through the corners of nineteenth-century London in search of the perpetrator of the bestial murder of Sir Danvers Careva. The game is based on puzzles like "hidden objects", for which logical mini-games add variety.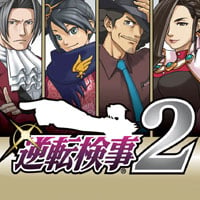 Ace Attorney Investigations: Miles Edgeworth 2 (NDS)
Adventure 03 February 2011
Another part of the acclaimed series of legal adventures of the Ace Attorney. It is the second time that the main protagonist is the prosecutor Miles Edgeworth, who comes to investigate a number of difficult criminal cases again.

Journey to the Center of the Earth (2008) (NDS)
Adventure 11 July 2008
An action adventure game based on the film under the same title and the novel "A Journey to the Inside of the Earth". We travel through seven underground worlds, fighting monsters and solving puzzles.

Xia-Xia (NDS)
Adventure 13 March 2012
Xia-Xia is an adventure game addressed to the youngest audience, created by Black Lantern development studio. Players control colorful crabs trying to discover the mystery of colorful lands and help their inhabitants. The game is based on the official license of Cepia, a producer of toys from the Xia-Xia series.

Silverlicious (NDS)
Adventure 13 March 2012
Silverlicious is an adventure based on the motifs of Victoria Kann's popular book. Players are designed to help a girl who loves pink color - Pinkalicious regain the power of tasting sweets. The producer of the game is an independent 1st Playable studio, specializing in games for the youngest.

Hidden Mysteries: Vampire Secrets (NDS)
Adventure 16 February 2011
Hidden Mysteries: Vampire Secrets is an adventure game with hidden object puzzles, produced by the American studio Gunnar Games. The main character, Claire, trying to explain the reasons for the visions tormenting her, discovers the evil, which fills the Savannah residents with horror.

D.W.A.R.F.S. (NDS)
Adventure 13 October 2008
D.W.A.A.R.F.S. is a logically-adventure game produced by Artifex Mundi development studio in Zabrze, whose main characters are a branch of friendly dwarves. Guided by Macro, Hoplo, Bingo, Reperto, Retro and Klepto, players have the task of helping to solve a variety of problems plaguing the inhabitants of the Magic Forest.

Joan Jade and the Gates of Xibalba (NDS)
Adventure 24 November 2011
A casual logic and adventure game, produced by Artifex Mundi studio and addressed to a wide range of audiences. Players have to help the title archaeologist Joan Jade save her children, discover the secrets of Mayan civilization and stop a group of criminals. The game combines puzzles such as hidden objects, puzzles and simple mini-games.