StarCraftPC Video Games
Video Games Encyclopedia by Gamepressure.com
PC (Personal computer) - one of the most popular home platforms and the only one which doesn't offer playing video games as its main purpose. PC was born in the 1970s, but it is impossible to give an exact moment of its birth or even a name of its creator. However, IBM is the one who gave computers their present shape, using, at the beginning of the 1980s, an idea of open architecture – which is today one of the most important differences between computers and consoles.
The foundations of PC as a gaming platform are currently systems of digital distribution of video games (Steam, Origin, Uplay) and MMO games that mostly work in f2p (free-to-play) model.
Action
Arcade
Fighting
RPG
Strategy

1
Adventure
Sports
Racing
Simulation
Logic
Party
MMO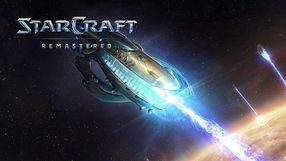 StarCraft: Remastered (PC)
Strategy 14 August 2017
An upgraded version of the bestselling 1998 RTS game. Both versions were developed by Blizzard Entertainment. Compared to the original release, the game (including the Brood War expansion) features mainly significantly improved audiovisuals. Although the visuals remain two-dimensional, all the graphic elements have become more detailed. Furthermore, the game supports high resolutions (up to 4K), as well as refreshed audio, which also applies to dialogues between characters. Changes were introduced to the game's online component as well - StarCraft: Remastered offers an advanced system of matchmaking, the option to store one's save files in the cloud, quick button re-mapping, and easy access to fan-made maps and replays. The mechanics remain unchanged - the game is a classic RTS, featuring three playable races (the Terrans, the Protoss, and the Zerg). The gameplay is based on gathering resources, building one's base, conducting research, producing units, and fighting enemies - in combat, taking advantage of both the enemy's weak spots and the strong spots of the player's forces, constitutes the key to success. Apart from six story campaigns (two for each of the races), the game offers an extensive multiplayer component with various game modes.