socialPS1 Video Games
Video Games Encyclopedia by Gamepressure.com
The PlayStation is the iconic, trail-blazing console designed and developed by Sony. It was a console of the 5th generation, but it was the 1st to be designed entirely by Sony. It sported a 32-bit architecture, a CD drive and entire 2 MB of RAM. The console achieved a stunning success across the world, eventually delivering more than 100 million units worldwide. Apart from PS1 (PSX), a scaled-down version, the PSOne, was also available.
Browse the Encyclopedia by genre and tags. Each game has one main genre: Action, Fighting, Puzzle, Adventure, RPG, Sports, Strategy, Simulation, Party, Racing, Arcade. You can search multiple tags and filter games by platforms, scores, or release dates.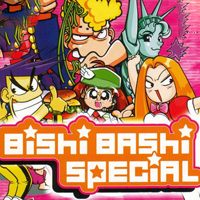 Bishi Bashi Special
Party 07 July 2000
A compilation of two games released exclusively in Japan - Bishi Bashi Special and Bishi Bashi Special 2. The production offers a total of 85 party mini-games that test players' reflexes and challenge them crazy. The title is characterized by a fast pace of action and manga visual setting.