PSP Simulation Video Games
Video Games Encyclopedia by Gamepressure.com
A list of Released Simulation video games for PSP sorted by composite score.
Simulation games. These titles put emphasis on simulating authentic (or fictional) actions in the most realistic manner possible. They allow the player e.g. to control civil (digger, crane, bus) or military vehicles (plane, tank, warship). Life simulation games (especially The Sims series) are very specific example of titles in this category, because they can simulate almost infinite number of aspects of human lives. more

The Sims 2: Pets (PSP)
8.2 Game Score
The fourth expansion for the popular game The Sims 2, in which you control the daily lives of player-created characters. As the title suggests, the expansion adds various pets to the game: from dogs and cats to guinea pigs, fish, hamsters and birds. You can design your pets just like your human Sims. They can also wear many accessories, such as scarves and collars. You have to remember, however, that the pets don't live forever and you have to take care of their basic needs, such as hunger and the need to relieve themselves. Dogs and cats in particular require quite a lot of entertainment, care, and training. The Sims 2: Pets includes a reward and punishment system, which allows you to better train your animal companion — otherwise, you risk mischief and collateral damage. Curiously, the well-cared-for pets can become show-business stars, which earns you a monthly reward.

The Sims 2: Castaway (PSP)
7.9 Game Score
Another game from the series "The Sims". This time we are on a desert island, playing the role of the title castaway. We must survive in an unfavourable environment, while learning the secrets of the island.

Ace Combat X: Skies of Deception (PSP)
7.9 Game Score
Ace Combat X: Skies of Deception is another game from the hit series, combining arcade and simulation elements. According to a tradition dating back to the mid-1990s, developers from Namco allowed us to play the role of a military pilot, sitting at the helm of modern combat jet planes.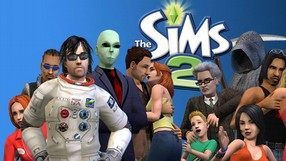 The Sims 2 (PSP)
7.6 Game Score
A sequel to the bestselling human life simulation game – The Sims (2000). The Sims 2 was developed by Maxis Studio (SimCity, EA Land, and others) in cooperation with the Electronic Arts company. Players again take care of virtual characters leading them through their entire lives – from early childhood till elderly age. The main goal is to achieve as high Life Score as possible, which stands for how well a sim leads his/her life. When compared with its predecessor, The Sims 2 offers much more complex character creator and a wider array of available objects. A new, more efficient game engine allowed for presenting the life of the sims in fully 3D graphics.

Pilot Academy (PSP)
6.5 Game Score
The game allows you to get acquainted with the basic principles of palatal machine control and to use the acquired knowledge while performing subsequent tasks and taking up new challenges.

Heatseeker (PSP)
6.5 Game Score
Heatseeker enables us to take control of a modern combat aircraft. The people responsible for this product from Codemasters Software once again aligned themselves with the Australian company IRGurus Interactive, with whom they previously created a successful game entitled "Heroes of the Pacific.