Beneath a Steel Sky Video Game Series
Video Games Encyclopedia by Gamepressure.com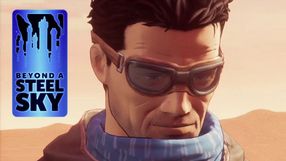 Beyond a Steel Sky
Adventure 26 June 2020
Beneath a Steel Sky 2 is an adventure game by Revolution Software team. The whole is maintained in cyberpunk climates and combines a gloomy vision of the future with a lot of humour. The game consists mainly in exploring the location, conducting talks and solving puzzles.

Beneath a Steel Sky: Remastered
Adventure 07 October 2009
Refreshed version of the classic point-and-click adventure by Revolution Software studio from 1994. We play the role of Robert Foster, a prisoner who survived the catastrophe of the plane transporting him, trying to regain his identity and learn the facts from his own past.

Beneath a Steel Sky
Adventure 11 April 1994
Oldschool adventure game produced in 1994 by Revolution, which has a well-known series of games "Broken Sword".