Rescue Video Game Series
Video Games Encyclopedia by Gamepressure.com

Rescue 2: Everyday Heroes
Simulation 03 June 2015
The second installment of the Rescue series, developed by Fragment Production, a Finnish studio responsible for the previous installment, as well as Roadside Assistance Simulator. When it comes to mechanics, Rescue 2: Everyday Heroes is a strategy game that attempts to simulate typical assignments of firefighters. Our job is to coordinate the units, choose the equipment, employ new firefighters, or exchange vehicles between individual departments. In case of dealing with fire, we need to remember about choosing the right extinguishing agents, finding water sources, and aiming the water stream at the right locations. The game contains a story campaign, but we can also respond to daily assignments. Rescue 2: Everyday Heroes uses up-to-date three-dimensional graphics, but the quality is decent at best.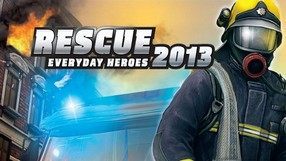 Rescue 2013: Everyday Heroes
Simulation 29 May 2013
Rescue 2013: Everyday Heroes is a combination of a simulation game and economic strategy. The player plays the role of the head of the firefighting unit, and his tasks include directing the command and command of firefighters during firefighting and rescue operations. The title was produced by the Finnish Fragment Production studio.