Jumanji Video Game Series
Video Games Encyclopedia by Gamepressure.com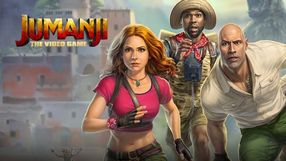 Jumanji: The Video Game
Arcade 08 November 2019
An action adventure game in which we play the protagonists of Jumanji: Welcome to the Jungle movie, and our task is to recover Jumanji's jewels and save the world. In Jumanji: The Video Game you can play alone or in the company of up to three players.

Jumanji
Party 15 September 2006
Jumanji is a family game based on the film under the same title. This cinema hit with Robin Williams in the lead role was released in 1995, based on a book by Chris Van Allsburg. Generally, the action is oriented around the title board game, which hides a mysterious power.