Bendy Video Game Series
Video Games Encyclopedia by Gamepressure.com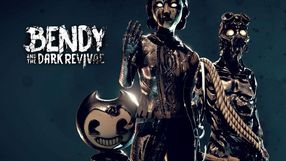 Bendy and the Dark Revival
Action 15 November 2022
The second part of the FPP survival horror series launched in 2017. In Bendy and the Dark Revival, we play Audrey, who is trapped in an animation studio overrun by terrifying monsters.

Boris and the Dark Survival
Action 10 February 2020
An indie survival horror game from Joey Drew Studios, a prequel to the first installment of the Bendy and the Ink Machine series. In Boris and the Dark Survival, we play the title character, who struggles every day to survive in a ghoul-infested comic book studio.

Bendy and the Ink Machine
Action 27 April 2017
An action-adventure game in the form of a survival horror, created by TheMeatly Games - an independent Canadian developer. The game was divided into episodes to be released on a regular basis - the first of them can be tried out for free. Henry, the game's protagonist, is a former employee of an animation studio who revisits his old workplace in response to an invitation he received from his previous boss. Once there, Henry discovers that his former employer has dabbled in occultism and disappeared in mysterious circumstances. Moreover, the place is haunted by the titular Bendy, one of the cartoon characters created by the studio - he became a living animation in a way that cannot be explained. The protagonist must discover the secrets of this place and find a way out. Bendy and the Ink Machine is played from the first-person view. The player explores the in-game environment and solves more and less complicated puzzles, including environmental ones. From time to time, the player also needs to hide from the enemies hunting the protagonist. All of this is complemented by high-quality graphics featuring an original art style, which brings cartoons from the first half of the twentieth century into mind.