Greek mythologySwitch Video Games
Video Games Encyclopedia by Gamepressure.com
Nintendo Switch is the successor of Nintendo Wii and Wii U consoles and is widely considered to be the first hybrid console on the market. It allows users to play games either at home on a big TV screen or while travelling. This is possible thanks to its revolutionary design, which combines features of both stationary and handheld consoles. It is composed of two main parts: the console unit, which is a 6.2" screen tablet based on Nvidia technology, and the docking station necessary to connect the console to a TV set. Nintendo Switch was released worldwide on March 3, 2017.
Action
Arcade
Fighting
RPG

1
Strategy
Adventure
Sports
Racing
Simulation
Logic
Party
MMO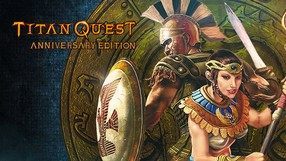 Titan Quest: Anniversary Edition (Switch)
RPG 31 July 2018
A new edition of Titan Quest, a classic hack-and-slash, bundled with its official expansion Immortal Throne, prepared for the 10th anniversary of the release. The plot takes place in ancient times, and is based on stories from Greek, Egyptian, Babylonian, and Chinese mythologies. The players assume the role of a hero, who is tasked with finding a way to imprison the Titans, who've managed to escape after years of imprisonment, and are now causing mayhem and destruction on Earth. The reedition was developed as a joint venture between the original developers – Iron Lore studio and THQ Nordic. In total, Titan Quest Anniversary Edition contains 1261 changes, including, for example, a better balancing of individual classes, abilities, weapons, and items. Other changes include: a better non-player character AI, greater equipment capacity, or an improved loot system. Aside from that, the game incorporates a large group of new enemies and bosses. The visuals underwent only symbolic changes, but they are still eye-catching, despite the passage of the time.