HorrorWii Video Games
Video Games Encyclopedia by Gamepressure.com
Wii is the 7th generation console from Nintendo and a successor to GameCube. It was released in November 2006 in North America and in December 2006 in Europe. Wiiís premiere marks a beginning of the revolution in Nintendoís policy, as company retrieved from waging war for hardcore gamer with Sony and Microsoft and focused its efforts on providing entertainment for the entire families. The result was a great success for Nintendo. In 2012 Wii was succeeded by Wii U.
Action
Arcade
Fighting
RPG
Strategy
Adventure

3
Sports
Racing
Simulation
Logic
Party
MMO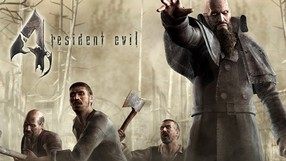 Resident Evil 4: Wii Edition (Wii)
Adventure 25 June 2007
The fourth major installment of the cult series of survival horrors created by Capcom. In the game the player assumes the role of ex-cop Leon S. Kennedy, a character well known from the second entry in the franchise. As a special agent responsible for protecting the presidential family, he goes to Europe in order to find the missing daughter of the US president. The trail leads to a small village in Spain. The village is controlled by a mysterious sect and the citizens are infected with a virus which causes mutations. During the game one will face hordes of zombies as well as more demanding bosses, such as giant monsters or the powerful leader of the sect, Osmund Saddler. Resident Evil 4 retains the dark feel of the previous installments and the game contains puzzles, but gameplay mechanics were greatly changed and the new engine allowed the developers to create faster and more dynamic action sequences. The game also contains many quick-time events.

Alone in the Dark (Wii)
Adventure 20 June 2008

Sadness (Wii)
Adventure canceled