thrillerWiiU Video Games
Video Games Encyclopedia by Gamepressure.com
Wii U is the 8th generation console from Nintendo and a successor to Wii. It was released almost all around the world in November 2012. Wii U had many new features (with GamePad controller on the top of the list) and significantly better performance, but it didn't manage to repeat the big success of its predecessor; actually, it wasn't even close. That's why less than 3 years after the release of Wii U the world began to spread rumors about the console's successor, initially codenamed NX.
Browse the Encyclopedia by genre and tags. Each game has one main genre: Action, Fighting, Puzzle, Adventure, RPG, Sports, Strategy, Simulation, Party, Racing, Arcade. You can search multiple tags and filter games by platforms, scores, or release dates.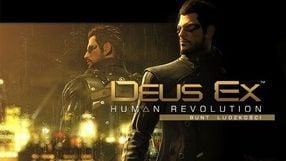 Deus Ex: Human Revolution
RPG 07 May 2013
The third installment in a series of cyberpunk action games with RPG elements. The franchise was launched in the year 2000 by Ion Storm, led at the time by Warren Spector. The reactivation of the series was made possible by the Eidos Montreal studio. Story-wise, the game is a prequel to the original series, taking us back to the year 2027, when Sarif Industies only begins to explore the possibilities of biomechanical augmentation of the human body.