S.T.A.L.K.E.R.: Call of Pripyat - Call of The Zone v.1.2 - Full game - Download
Download for free and play full version of S.T.A.L.K.E.R.: Call of Pripyat , a(n) action game, Call of The Zone v.1.2 , for PCs and laptops with Windows systems. Free and legal download. Enjoy!
file typeFull version
file size5523.8 MB
downloads5135
(last 7 days)28
last updateMonday, November 1, 2021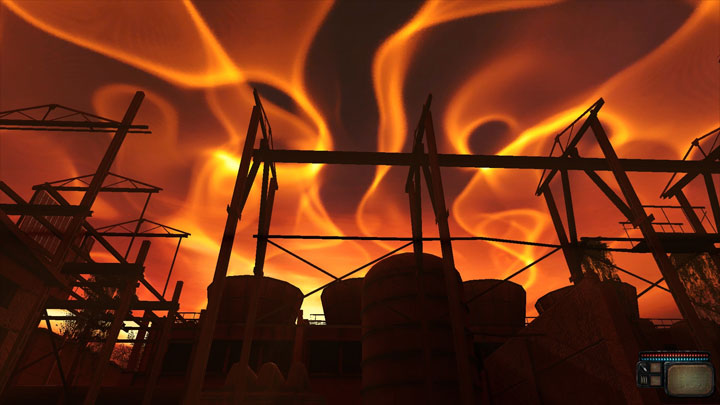 Call of The Zone is a mod for S.T.A.L.K.E.R.: Call of Pripyat, created by DoctorX01.
Description:
Call of The Zone is a standalone modification for S.T.A.L.K.E.R. – Call of Pripyat that allows you to explore the Chernobyl Exclusion Zone – a desolate and highly contaminated region of Ukraine that has been abandoned and closed off for decades ever since the 1986 Chernobyl disaster. What has been going on in this irradiated wasteland since then? There are no shortage of rumors and conspiracy theories, each more fantastic than the last. Rumors of mutated wildlife, brainwashed cults, secret experiments, and unexplainable paranormal events abound, as do promises of great riches and wildest dreams coming true for those who are daring or desperate enough to try to break through the cordon. You are about to find out for yourself what is true and what is yet undiscovered, and experience for yourself all the Zone has to offer... or to take from you.
Built upon Team Epic's revolutionary Call of Chernobyl mod that incorporated the maps from all three original Stalker games into a vast and freely explorable Exclusion Zone as well as adding countless features and improvements, Call of The Zone delivers numerous gameplay and immersion enhancements for your adventure into the Chernobyl Exclusion Zone.
Featuring a dynamic storyline that will lead you all throughout the Zone, Call of the Zone features hundreds of unique, dynamic, repeatable tasks and dozens of brand new task types. Task targets, areas, rewards are determined in real time whenever a task is offered. Infinite replayability is possible as your game will never be the same no matter how many adventures you take into the Zone!
In addition to the dynamic tasking system, the Zone itself is now completely dynamic. Factions will create alliances and go to war with each other. Anomalies can appear anywhere and shift position with every blowout. Mutants and stalkers are spawned dynamically and with far more variety. A-life is free to wander the Zone and is no longer tied to limited areas. The Zone is alive and continually transforming as you make your way through it.
Call of The Zone features numerous gameplay enhancements, custom and restored dialogs, graphical improvements, a-life enhancements, performance tweaks, and bugfixes. Gameplay and immersion were the overarching priorities, to deliver you a fun and thrilling adventure into the Chernobyl Exclusion Zone whether you are a seasoned veteran stalker or brand new to the Zone!
Features:
- Dynamic, repeatable storyline and hundreds of custom tasks.
- Dynamic population and a-life, the Zone is far more alive and unpredictable.
- Dynamic faction relations; the politics of the Zone are constantly in flux.
- Dynamic anomalies that spawn in random locations and change position with every blowout.
- Dozens of new task types including: big-ass brawls, area searches, hidden target manhunt tasks, sniper tasks, guide tasks, big mutant hunt tasks, interceptor tasks, designated target tasks, dynamic brawls, prisoner snatch tasks, as well as "reverse" tasks where the player helps NPC's complete their tasks or where the player is the assassination target being hunted by bounty collectors!
- Added modified storyline tasks from the original Stalker series and Call of Chernobyl story mode.
- New Blackout feature: a player on very low health in a firefight might pass out from blood loss and get mugged by the attackers, or your companion may get kidnapped and you will have to rescue them!
- Enhanced npc dialogs; local stalkers will give real-time info and warnings about threats in the area, give information to help you in your current task, and offer to come along and help you with certain tasks.
- Enhanced companion system; your companions now give warnings, advice, and chat with you while you travel with them. No longer are they just silent followers, they may even save your life if you get knocked out!
- Restored dialogs from the original Stalker series and cleaned up existing dialogs
- Additional keybinds; you can now remotely detonate the landmines you placed or spawn a crate at your feet!
- Ability to change factions at any time throughout the game
- Blowouts now come with less warning and are more intense the closer you get to the source
- Modified PDA statistics tab, adding several new player stats and removing frivolous statistics
- Location names are now shown on the PDA map
- Modified actor, npc, and weapon damage values, making combat more realistic while keeping gameplay challenging and enjoyable
- Weapons have improved textures and sounds and no longer have fake names
- Restored helicopter aggressiveness and defined safe zones where they will not engage
- Additional radio locations and radio tracks
- Numerous texture upgrades and graphical enhancements
- Numerous bugfixes and system performance enhancements
Instructions:
It's a standalone game. Just extract and run the .exe.
Last update: Monday, November 1, 2021
Genre: Action
File size: 5523.8 MB
see more
Popular files for S.T.A.L.K.E.R.: Call of Pripyat