Xbox SmartGlassPC Video Games
Video Games Encyclopedia by Gamepressure.com
PC (Personal computer) - one of the most popular home platforms and the only one which doesn't offer playing video games as its main purpose. PC was born in the 1970s, but it is impossible to give an exact moment of its birth or even a name of its creator. However, IBM is the one who gave computers their present shape, using, at the beginning of the 1980s, an idea of open architecture – which is today one of the most important differences between computers and consoles.
The foundations of PC as a gaming platform are currently systems of digital distribution of video games (Steam, Origin, Uplay) and MMO games that mostly work in f2p (free-to-play) model.
Action
Arcade
Fighting
RPG

1
Strategy
Adventure
Sports
Racing
Simulation
Logic
Party
MMO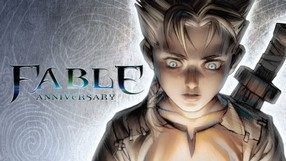 Fable Anniversary (PC)
RPG 12 September 2014
A refreshed version of the legendary RPG by Peter Molyneux, created to celebrate the tenth anniversary of the original Fable game. The remake is based on the expanded version called Fable: The Lost Chapters which debuted in 2005. Developers from Lionhead focused mostly on improving the graphics to fit modern HD standards and introducing many improvements of the gameplay mechanics. The player takes the role of a small boy who witnesses the death of his closest ones during a bandit raid on his family village. Adopted by a member of the legendary Hero Guild, he trains and becomes stronger in order to have his revenge on the bandits. During the game the protagonist changes from a small, helpless boy into a true hero. In addition to the main plot, the developers also created many side quests and various additional activities that are gradually unraveled as the player progress in the game. The protagonist can act in good or bad way and his actions will impact the attitude of non-playable characters towards him.