Isometric viewPS4 Racing Video Games
Video Games Encyclopedia by Gamepressure.com
Racing games. Category of games about racing with rivals using various vehicles. Player's purpose is to be first on the finish line or to achieve the best lap time possible. There are titles with land, water and air vehicles which are controlled in an arcade or simulating manner. more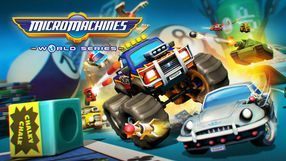 Micro Machines: World Series (PS4)
Racing 30 June 2017
Another installment of the cult series of arcade racing games published by Codemasters Software. Like in the legendary first entry in the series from 1991, in Micro Machines: World Series the player assumes control of remote controlled vehicles and competes with other drivers on wacky tracks. There are 12 vehicles available, among which there are exotic racing cars and trucks that can create chaos on the road. The vehicles are equipped with weapons, among which there are rocket launchers, grenade launchers, flamethrowers and machines guns. The races take place in locations like pool tables, workshops, backyards and kitchen tables. The key to victory is to effectively eliminate opponents and to avoid numerous obstacles scattered across the tracks. Micro Machines: World Series offers single player and multiplayer modes. In addition to classic races, the title offers arena battles and other modes.
BlazeRush (PS4)
Racing 16 December 2015
An arcade racing game developed by the experienced Russian game studio, Targem. The players sit behind the wheels of futuristic vehicles powered by rocket engines and sporting weapons that allow them to effectively deal with the competition. BlazeRush is based on the best classic arcade game patterns. The gameplay is viewed in isometric perspective, and the players can choose from sixteen different vehicles with unique parameters - weight, acceleration, and handling. In the single player campaign, the players participate in a series of subsequent races and challenges. In doing so, they unlock new cups, vehicles, and other accessories. Furthermore, the game features a local multiplayer mode for the maximum of four players. The graphics are colorful and full of impressive explosions. Apart from that, the game supports the Oculus Rift virtual reality goggles.