The Elder Scrolls III: Morrowind - Morrowind Rebirth v.6.5 - Game mod - Download
The file Morrowind Rebirth v.6.5 is a modification for The Elder Scrolls III: Morrowind, a(n) rpg game. Download for free.
file typeGame mod
file size282.5 MB
downloads44074
(last 7 days)24
last updateSaturday, November 25, 2023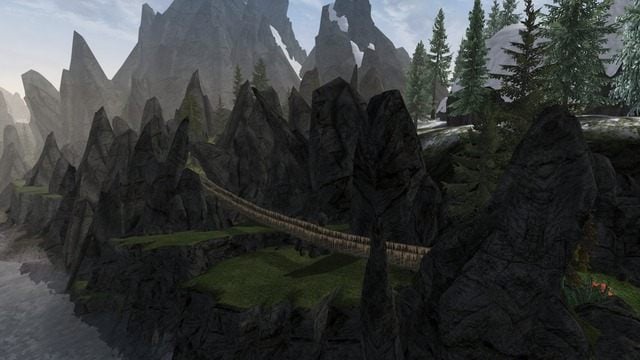 Morrowind Rebirth is a mod for The Elder Scrolls III: Morrowind, created by Rebirth Team.
Description:
Explore the island of Vvardenfell as you never have before, with a world built anew to be both alien and familiar to the Morrowind you knew before. New adventures await, with new exciting areas to see and explore, and new artifacts just waiting to be discovered.
This is a complete overhaul for Morrowind, adding countless new details, weapons, armors and much more for you to see and do. Experience the world of Morrowind in a new light, try out Morrowind Rebirth today!
Features:
Morrowind Rebirth is a massive mod with a ton of new features. Down below you can view some of these, but it's only through gameplay that you'll have a chance to fully discover what Rebirth has to offer.
Landscape changes
-Almost all cities have recieved massive tweaks including new layouts, houses, shops and other places of interest.
-Massive landscape changes including an effort to eliminate all texture seams and floaters throughout the world.
-New rocks and trees for all regions in Vvardenfell.
-New dungeons spread throughout Vvardenfell.
Creatures
-More than 20 new creatures such as the Frost Monarch, Ash Scorpion and Swamp Scrib seamlessly integrated into the game through leveled-lists.
-Most creatures have recieved new spells/resists and have had tweaks to levels, health, magicka and other variables.
-Removed reflect from most creatures, as the effect was way too common in Morrowind and its expansions.
-Blighted creatures have recieved unique textures to set them appart from their normal counterparts.
Armor/Weapons/Clothing
-More than 100 pieces of new armor, weapons and clothing including additions to sets already present in Morrowind, but also new artifacts and enchanted gear.
-Tweaks to values, durability, armor rating and other variables.
Spells
-The magnitude, duration and area of effect of all spells have been tweaked to provide the player with more useful options in combat.
-All of the old starting spells have been removed in favor of new ones that are cheap to cast, while still being effective.
-New spells and variation of vanilla spells have been added to NPCs and vendors.
-Some spell-effects can no longer be used for spellmaking (Fortify Skill, Fortify Attribute, Drain Health)
Alchemy
-Plant and organic containers are less likely spawn alchemy components.
-Player made potions are now 50 % less valueable compared to vanilla.
-Vendors will no longer restock rare ingredients.
Enchanting
-Only uniquely named enemies will have soul values high enough to be used for constant effect enchantments (with Dremora Lord of Divinity being the only exception).
-Summoned creatures now have 50 % of the soul value compared to vanilla counterpats.
-Grand soul gems are now limited, and does not appear as random loot.
-Blank scrolls in various qualities can now be bought from enchanters.
-Soul gems in various qualities can now be bought from enchanters.
-The cost of creating enchantments have been drastically reduced.
-The recharge-rate of enchantments have been reduced by 50 % +.
-Some spell-effects can no longer be used for enchanting (Fortify Skill, Fortify Attribute, Drain Health, Invisibility).
Settings
-There's now a 50 % chance that you can recover projectiles such as arrows and bolts after combat.
-Fire, Shock, Frost and Lightning-shields now damages opponents that gets too close to the "bubble".
-Traveling by boat, silt strider or using Mage's Guild services is now much more costly.
-Jumping from great hights will now either kill the player or cause a lot of damage.
-Using trainers for increasing skills is now much more costly.
-Camp fires and other sources of heat will now cause damage.
-Minimum running speed has been greatly increased.
-Shops, city gates and other places closes at night.
Birthsigns
-Tweaks to almost all birthsigns to make them either more useful or less powerful. Previously most players used either the Lady or the Atronach.
Leveled list tweaks
-Most containers contain less valuebles such as gold, gems and other valueble items.
-All containers that previously had a set amount of gold now have a random amount of gold.
-Low level creatures such as netches now spawn at level 1.
-Deadra no longer spawn in the Grazelands.
Misc
-Fixed hundreds of bugs such as script errors, typos, incorrect uvs, missing textures, bleeding objects, incorrect pathgrids and more.
-Included is the largest and most up-to-date collection of mesh replacers, some which are only available in this modification.
-Artifacts and magical gear of great power is now either guarded, put in locked containers or protected by traps.
-Dark Brotherhood assassins now carry less valueble gear, and will no longer be an easy source of income. Additionally Dark Brotherhood assassins won't attack you until you hit level 15.
-Important characters, guards and other NPCs now have more health and better protective gear.
-Bounty Hunters will attack you if your bounty reaches a certain threshhold.
-Campfire kits and bedrolls are now available at selected traders.
-Mercenaries for hire now roam the streets of all major cities.
Extras (separate package)
-New musical tracks suitable for both battle and exploration (optional)
-New splashscreens (optional)
-New main menu (optional)
-New textures for the Bitter Coast and the West Gash.
Instructions:
Requirements and recommended mods
3.1 Requirements
-"Morrowind Code Patch": https://morrowind.nexusmods.com/mods/19510/
(Note that the Morrowind Code Patch is not required if you use OpenMW)
-You need the US/UK version of the game.
-This mod requires the expansion packs.
Recommended Mods
Find my recommended mods here:
http://www.moddb.com/mods/morrowind-rebirth/tutorials/recommended-mods-graphics
http://www.moddb.com/mods/morrowind-rebirth/tutorials/recommended-mods
Installation
First make sure that you have the Morrowind Code Patch installed prior to installing Morrowind Rebirth (This does not apply if using OpenMW). When installed open the Morrowind Code Patch program and tick the box "Bump/reflect map local lightning" in the visuals tab and the boxes "Allow scroll enchant price modifier" and "Separate axe inventory sounds" in the mod specific tab. Don't forget to press the "Apply choosen patches"-button afterwards. After having that sorted out proceed with the steps below:
Here's the file structure when you've unpacked the Morrowind Rebirth archive:
Copy the "Data Files" folder and paste it to one of the locations shown down below (regular or steam). The latter won't apply if you have Morrowind installed elsewhere:
That should be it. Don't forget to tick the box "Morrowind Rebirth [Main]" and any other eso or esm that you want to use in "Data Files" on the start-up menu. Start a "New Game" in order to avoid dirty saves (or repair your old save-game using Wrye Mash). If you're using MGE or MGE XE, don't forget to re-run distant land to avoid potential landscape issues (see below). As for distant land I recommend a draw distance of maximum 8 cells.
Last update: Saturday, November 25, 2023
Genre: RPG
File size: 282.5 MB
see more
Popular files for The Elder Scrolls III: Morrowind