Command & Conquer: Red Alert - Full game - Download
Download for free and play full version of Command & Conquer: Red Alert , a(n) strategy game , for PCs and laptops with Windows systems. Free and legal download. Enjoy!
file typeFull version
file size344.9 MB
downloads591064
(last 7 days)1098
last updateThursday, February 13, 2014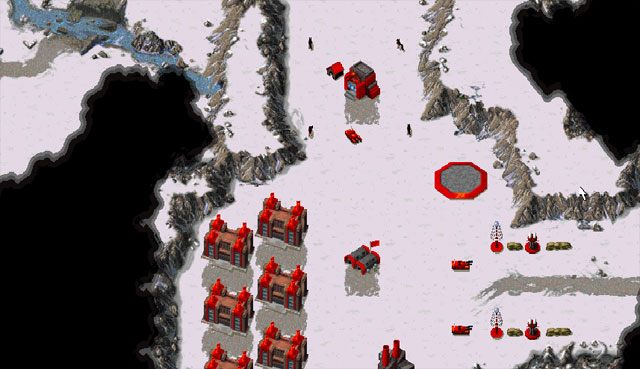 Command & Conquer: Red Alert is the second edition of the classic RTS cycle studies Westwood. The game launched a new series of branch, which then was developed parallel to the Tiberium. The action set in the world of przeobrażonym as a result of the invention of a time machine. It was introduced in the history of changes that have far-reaching effects. Eliminating Adolf Hitler in his youth made that World War II never broke out, which in turn has led to a much faster growth in the power of the Soviet Union.
The game's story takes place in the 1950s and tells the story of the conflict between the Soviet Empire and the allies. Each faction has its own campaign, during which the story posuwana is ahead both through events in the course of the mission, as well as through numerous scenes przerywnikowych.
Version, which you obtain from our FTP is a complete Edition, containing both the basic versionCommand & Conquer: Red Alertand add-ins. To install simply extract the archive to a directory you have selected. Before running the game you might want to configure the program using the file RedAlertConfig. exe. It will allow you to, among other things. Select the resolution, enable mode pane or choose individual graphics filters.
In addition, the RedAlertConfig. exe allows You also to deal with any problems by changing the options in the "Video Options":
If the game refuses to work and jump her errors to make sure that you have selected the option "Force single CPU affinity".
If the game runs too fast on your computers, it's in the "Max FPS" enter the value 60.
If the mouse makes You problems, then mark the option "Enable mouse hack"
Last update: Thursday, February 13, 2014
Genre: Strategy
File size: 344.9 MB
Files for Command & Conquer: Red Alert