Fallout 3 - EVE - Energy Visuals Enhanced v.0.99 - Game mod - Download
The file EVE - Energy Visuals Enhanced v.0.99 is a modification for Fallout 3, a(n) rpg game. Download for free.
file typeGame mod
file size184.6 MB
last updateSaturday, February 20, 2016
downloads1422
downloads (7 days)15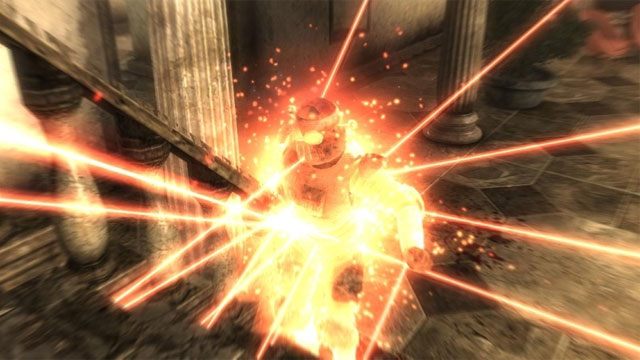 EVE - Energy Visuals Enhanced is a mod for Fallout 3, created by Weijiesen and Cipscis
Opis:
This mod will make you start using energy weapons. If you already are a fan, then try not to mess your trousers. To start with, here are a few of the things that EVE introduces:
# THIRTY TWO new custom animated "Critical Kills" for laser/plasma/pulse/Fatman/missile
# ALL new custom muzzleflashes for all laser/plasma/pulse
# ALL new custom enhanced projectiles for all laser/plasma/pulse/MissleLauncher/flamer
# ALL new realistic animated impacts for all laser/plasma/pulse
# ALL new high-quality textures for all laser/plasma/pulse
# ALL new sounds for laser/plasma/pulse/robots (ALL energy weps in FO3)
# Insects and Supermutants have their own custom animated ashpile! (random chance to be seen upon laser crit kill)
# NEW custom explosions for Plasma/pulse Grenade/Mine
# New "Crit hit effects" for laser/plasma
# New customized meshes for laser/plasma/pulse
# All "unique" unergy weapon variants are now overhauled "Classic Fallout" weapons!
# New awesome models for Plasma and Pulse grenades and mines (thrown)
# New mesh Firelance, Vengence, WazerWifle, Protectron's Gaze, and more!
# Pulse weaponry introduced to FO3 (all aspects: sounds, impacts, deaths, ect.)
# Outcast's "Shredder" grenade introduced to FO3
# PT900 (Plasma Thrower) Introduced to FO3! The king of heavy energy weaponry!
# Fatman has crit kills! (x3)
# Missile crit kill against a supermutant will dismember from the torso! (elbo and neck too)
# Shooting dead bodies with an energy wep will have a chance to disintegrate it or cause shader FX.
# Firelance will ignite enemies and bodies with a alien-ish blue flames FX.
# New custom flamer model with awesome textures and sounds!
# Flamer has own crit kills! (x5)
# Flamer causes enemies (non robot) to have a chance to flee when on fire (dependent on their Endurance, and also you having the Pyromaniac perk helps)
To install use Nexus Mod Manager.
Report problems with download to support@gamepressure.com