Fallout 4 - Darker Nights v.1.11p6 - Game mod - Download
The file Darker Nights v.1.11p6 is a modification for Fallout 4, a(n) rpg game. Download for free.
file typeGame mod
file size6 MB
last updateMonday, March 20, 2017
downloads1297
downloads (7 days)14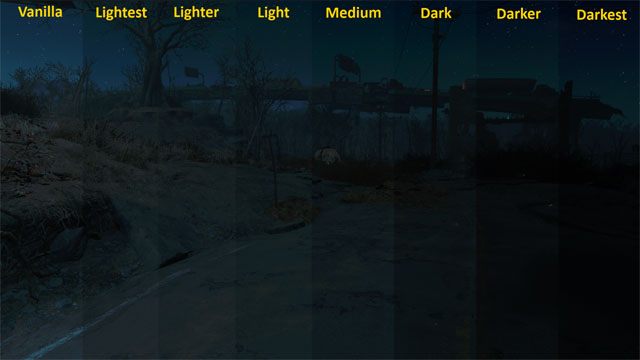 Darker Nights is a mod for Fallout 4, created by unforbidable.
Description:
Now you see me...
This mod will make the nights in the Commonwealth darker. Not by a whole lot, but dark enough I think so that you know the night has fallen without having to check the time on your pip-boy. Interiors will be darker during the night as well unless they are well lit. There are seven levels of darkness to choose from.
To see the mod in action please go to the mod Videos section.
The mod provides an optional set of plugins which adjust the ability of NPCs to detect you in low light conditions. There is a version "calibrated" to each of the seven levels of darkness but you may choose any one of them if you are not happy with the default. What it does is that it allows NPCs to become alert (enter CAUTION) at about the same distance as in vanilla.
To install this mod use Nexus Mod Manager.
Report problems with download to support@gamepressure.com