Fallout 4 - DEF_UI v.1.5.1 - Game mod - Download
The file DEF_UI v.1.5.1 is a modification for Fallout 4, a(n) rpg game. Download for free.
file typeGame mod
file size37 MB
downloads8660
(last 7 days)21
last updateWednesday, January 15, 2020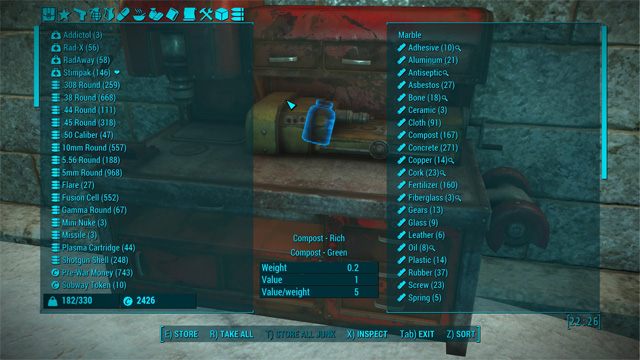 DEF_UI is a mod for Fallout 4, created by Neanka and Valdacil.
Description
This is a re-package and re-release of Neanka's DEF_INV and DEF_HUD mods (with permission from Neanka) with a new consolidated installer. These are currently the last versions Neanka released and are provided as-is. Please see notes at the bottom regarding mod support.
DEF_HUD
---------------------
The HUD, or Head's Up Display, refers to the main game interface while adventuring. The HUD elements include HP, AP, Crit, XP, and Enemy HP meters, compass, dialogue, and messages. This mod allows customization of all of those elements. All elements can be moved, rotated and resized as desired. Some elements also have customization options like hiding parts of the element (HP tag on the HP meter for example).
There is also an optional feature to show scrap components beneath items when looting. This feature requires either the included scrap tags file or a similar file from your sorting mod (like VIS). If you use the included scrap tags file it will override any mod that changes scrap items (weight, components, names, etc).
This mod will conflict with any other mod that modifies the interface such as MyHUD or Pleasant UI, however all of the features provided by those mods can duplicated (and then some) with DEF_HUD.
DEF_INV
----------------------
DEF_INV modifies the interface for container, barter and pipboy inventory screens with numerous improvements. Container and Barter screens have been increased in size to fill the screen. All of the remaining features require a sorting mod:
- Sorting tags can be replaced with icons in all three screens.
- New tabs are available in container and barter screens to limit what is displayed by category based on tags.
- Additional tabs have been added to the Pipboy to move Notes and Holotapes to their own tabs based on tags.
- Pipboy items can be rolled up into a single entry based on tags (example: all keys are collected in a single Key Ring entry which can be expanded as needed).
Instructions:
----------------------
Use Nexus Mod Manager to install this project.
Sorting Mods
----------------------
Since most of the features of DEF_INV require a sorting mod, here are some suggestions for known sorting mods that are compatible with DEF_INV:
Valdacil's Item Sorting by Valdacil
Better Item Sorting by xandarori
Bhaal's Better Sorting by SystemLordBhaal
German Item Sorting by messiahgov
A Realistically Weightless Colored Sorting Mod by Zenotep (Get config files from that mod)
Last update: Wednesday, January 15, 2020
Genre: RPG
File size: 37 MB