Fallout 4 - NPCs Travel v.2.9.5 - Game mod - Download
The file NPCs Travel v.2.9.5 is a modification for Fallout 4, a(n) rpg game. Download for free.
file typeGame mod
file size1.3 MB
downloads2936
(last 7 days)27
last updateSaturday, June 6, 2020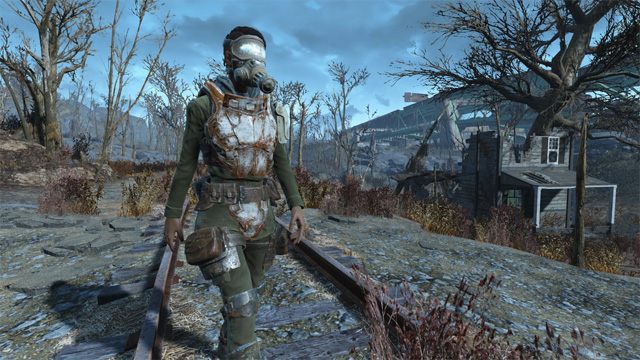 NPCs Travel is a mod for Fallout 4, created by skyquest.
Description:
This mod adds 88 new NPCs to the commonwealth.
New Humanoid: Adventurer, Hunter, Scavenger, Mercenary, Minuteman, Brotherhood of Steel, Gunners, Raiders, Super mutant.
New Non-humanoid: Hunter's Dog, Attack Dog, Guard Dog, Mutant Hound.
New Robots: Assaultron, Eyebot, Mister Gutsy, Mister Handy, Protectron, Sentry Bot.
Travel extensively in commonwealth and encounter in various places.
Travel destinations are determined randomly.
Travel destination is more than 200 places in the commonwealth.
Some travel destinations are unlocked by quest achievement or specific conditions.
Adventurers, Hunters, Scavengers are tradable but basically the assortment is poor setting.
Hunter will travel with a dog.
Hunter will sell items obtained by hunting, such as animal meat.
Scavenger will travel with a robo
Scavenger will mainly sells junk items.
3 Mercenary squads (Members: Leader, Doctor, Mercenary, Robot).
Mercenary doctor is a doctor and dealing with medicl supplies.
2 Minuteman patrols (Members: Leader, Minuteman, Minuteman, Dog or Eyebot).
Unlocked the first minutemen patrol if the over 10 settlements and the castle has been owned by player. The second is 20. Except DLC.
2 Brotherhood of Steel patrols (Members: Leader, BoS, BoS, Mr Gutsy).
Unlocked after the Brotherhood of Steel arrives in the commonwealth.
2 Gunners squads (Members: Leader, Gunner, Gunner, Robot). Default is 0.
2 Group of Raider (Members: Leader, Raider, Raider, Attack Dog). Default is 0.
2 Group of Super mutant (Members: Leader, Super mutant, Super mutant, Mutant Hound). Default is 0.
Unfortunately, Super mutant seems not walk in the weapon drawn state (or setalert 1). So they will walk in the non weapon drawn state.
All travelling NPCs will affected by the [iHoursToRespawnCell, iDaysToRespawnVendor] of game settings.
In addition, all travelling NPCs will reset after a elapse of 10 days. The timing is players sleep.
The mod become active after the Escape from Vault 111.
To install this mod use Nexus Mod Manager.
This mod requires all the DLCs.
Last update: Saturday, June 6, 2020
Genre: RPG
File size: 1.3 MB