Shadow Warrior (1997) - SWP v.4.3.2 - Game mod - Download
The file SWP v.4.3.2 is a modification for Shadow Warrior (1997), a(n) action game. Download for free.
file typeGame mod
file size693 KB
downloads969
(last 7 days)21
last updateSunday, April 2, 2017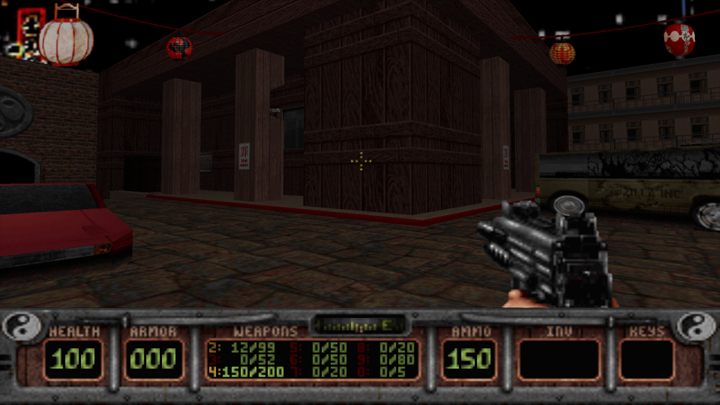 SWP is a tool for Shadow Warrior (the one from 1997), created by ProASM.
Description:
This is a modified version of Jonothan Fowlers Shadow Warrior adding stuff as and when required.
Although it is important to try and keep the game as original as possible it is often necessary to make several changes to improve things which adds to the gameplay.
SWP always uses the latest code available from JonoF wherever possible.
The game comes with a comprehensive startup menu which can be accessed by just double clicking on the SWP.exe file.
Most playing requirements as well as configirations are available form this menu.Installing SWP
Create a directory called SWP and in this directory you will need the following files:
1. SWP.exe
2. SWP.grp
3. SWP.cfg - will get created 1st time.
4. SW.grp - Shareware or retail.
That will get you playing although to improve gameplay you will need the High Resolution Pack (HRP).
Just add the Sw_Hrp.zip file this directory and start the game.
Other Directories
Maps
For a better gameplay it may become neccessary to add a Maps directory where you can store all your user maps and assiated map files.
SWP will look for this directory at startup and list the maps found.
Games
Another worthy directory is the games directory where you store all your Addons, TCs (Total Conversions) and other associated files.
Here again, SWP will loook for this directory at startup and list all your addons etc.
Music
This is an optional directory where SWP will look for all you music that you may want to select with your game.
Last update: Sunday, April 2, 2017
Genre: Action
File size: 693 KB
Files for Shadow Warrior (1997)