Command & Conquer 3: Tiberium Wars - Meta Mod v.2.01 - Game mod - Download
The file Meta Mod v.2.01 is a modification for Command & Conquer 3: Tiberium Wars, a(n) strategy game. Download for free.
file typeGame mod
file size20.1 MB
last updateWednesday, June 21, 2017
downloads1189
downloads (7 days)2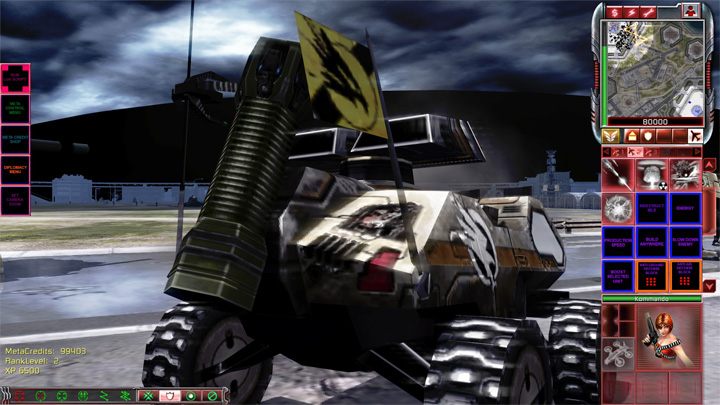 Meta Mod is a modification for Command & Conquer 3: Tiberium Wars, created by MetaIdea.
Description:
Meta Mod is a unique modification for C&C3; TW/KW which tries to enhance gameplay from a "meta" level by introducing completely new game mechanics such as gamemodes.
Ever wanted diplomacy, new gamemodes, first person view mode and a real timetravel ability in a C&C game? Then this mod is for you, as it comes fully packed with such "meta" game enhancing features by extensive use of lua scripting code (over 10000 lines).
Important new features in Meta Mod 2.0:
Meta Credit Shop with rank and xp system, lua based savegames introduced.
Autostart config to configure your game very individually with over hundred options.
4 new gamemodes: native art of defense/ tower defense (with advanced evolutionary self learning AI), random army gamemode, unit vs. unit, hero general
Diplomacy system: You can even switch teams and give commands to other teams if you apply as a team commander
Meta command & meta control menus: Hundreds of options to manipulate the game and use internal script and engine mechanisms.
First and third person mode: Completely new game experience. Switch to first person mode during game and leave it whenever you want.
Mod script loader system: Easy to use framework to use external lua mod scripts. Very interesting for modders.
And much more with over 10,000 lines of lua coding
infinite camera zoom, new faction, guard shield emitter with unique ai mode,....
Note: Everything in this mod can be disabled one by one if you would like to. Also note that there may be bugs present, but that should be considered as the cost for this wide range of new partly experimental features, made by only one person.
Many additional files for lua modders and a self written sage engine lua modding guide are included in the download package.
current Tiberium Wars port specific limitation:
The following aspects do not work yet or are missing but will possibly get reintegrated in future versions:
- meta tech faction (currently only placeholder with gdi+nod+scrin base at start)
- diplomacy alliance changes
- meta mod maps
- advanced game rules settings
- some lua specific port adaptions still required (lua tables and more)
- multiplayer compatibility
The meta credit shop is in sandbox mode on first start. To change it back to rank and credit dependency, change "MetaCreditShop_SandboxMode" to 1
in your AUTOSTART_CONFIG.lua which gets created in the "Documents\Command & Conquer 3 Tiberium Wars\MetaModIO" folder on first start.
Last update: Wednesday, June 21, 2017
Genre: Strategy
File size: 20.1 MB
see more
Popular files for Command & Conquer 3: Tiberium Wars