Heretic - Romero's Heresy II - Game mod - Download
The file Romero's Heresy II is a modification for Heretic, a(n) action game. Download for free.
file typeGame mod
file size3.4 MB
last updateSunday, October 15, 2017
downloads310
downloads (7 days)3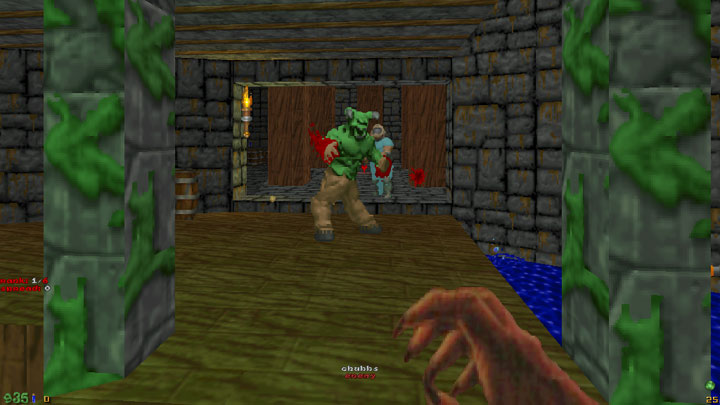 Romero's Heresy II is a mod for Heretic, created by diabolo666.
Description:
This is an universal ZDoom replacer mod for HERETIC: SOTSR to play all Heretic levels with DOOM and HERETIC weapons and monsters. All HERETIC ones have been modified. It's another tribute to John Romero hence the name.
Of course DOOM and HERETIC are copyrighted by id software and this mod requires HERETIC: SOTSR 1.3.
Most DOOM sprites are taken from the Doom 2 Minor Sprite Fixing Project v1.8 released in 2016, Romero's additional rotations are included.
FEATURES:
--------
- Four player classes: Renegade aka Heretic, Baron of Hell, Dark Elf and Marine. The renegade is the main class and is some sort of marine-mage (can use most weapons in the game).
- MP friendly weapons with weapon stay in coop (simple and compatible solution for multiple player classes).
- New weapons: alpha rifle, beta supershotgun aka supersupershotgun, magnum, doom rod, icy rod, icy crossbow...
Many weapons have been given an alt fire, just experiment. Beefed up Heretic weapons.
- New powerups: vampiric chaos device, baron morph ovum (turns monsters into friendly barons and yourself into a baron or makes you stronger if you're already a baron), tome of quad power.
- New monsters ala Raven style: ghost versions of some Doom monsters. ;) Modified Heretic monsters for a real challenge with some surprises.
- Higher difficulty with an additional skill level (black plague kills thee).
REQUIREMENTS:
------------
Requires a least ZDoom 2.3.1, GZDoom 1.3.17 or Zandronum 2.0 (or higher). Runs with ZDoom LE as well.
GL mode is strongly recommended mainly to avoid sprite palette conversions.
IMPORTANT: for Zandronum you need to set switch on pickup to always on weapon setup or else you wouldn't be able to pick up weapons!
CREDITS:
-------
Raven and id software for HERETIC and DOOM II.
John Romero for the unreleased stuff and being so cool.
Revenant100 et al for the Doom 2 Sprite Fixing Project v1.8.
Vader for the Hell Marquis sprites.
Gokuma for the Baron and Heretic skins.
Ravage for some beta supershotgun graphics.
PSTrooper for the bloodscourge pickup sprite for the doom rod.
Some ammo sprites taken from Complex Doom by Daedalus.
Other modified graphics from Doom alphas and betas.
Supersupershotgun and magnum firing sounds from the ZDoom Weapons Resource Wad v2.0.
Enjay for his support in the old days.
To run this mod use ZDoom.