Warhammer 40,000: Dawn of War II - Retribution - DoW II: Codex Edition v.1.1 - Game mod - Download
The file DoW II: Codex Edition v.1.1 is a modification for Warhammer 40,000: Dawn of War II - Retribution, a(n) strategy game. Download for free.
file typeGame mod
file size2340.4 MB
last updateMonday, April 16, 2018
downloads453
downloads (7 days)17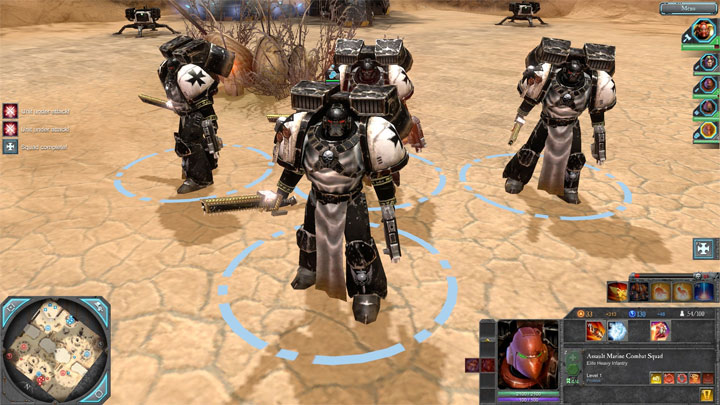 DoW II: Codex Edition is a mod for Warhammer 40,000: Dawn of War II - Retribution, created by SquadBroken and Gabriel Gorgutz.
Description (in authorís own words):
So, this is an unofficial continuation of the Codex Edition project - this is not sponsored by Gabriel Gorgutz beyond using his files.
I'll be making changes to balance where they pop up though I feel as though Codex Edition is actually in a pretty solid state, I've also made some changes to the existing codex edition patch that should serve to limit the Marine factions somewhat in 3v3 - as before you could have potentially 9 tactical squads from one team just obliterating everything.
Instructions:
You can make use of the mod simply by extracting the two folders & the codex edition module into your Dawn of War retribution folder usually located here in program files, specifically:
C:\Program Files (x86)\Steam\steamapps\common\Dawn of War II - Retribution
And once that is done, apply the launch options to the executable either through steam or through the exe itself if you are playing with nonsteam, you want to set these launch options:
-modname DOW2CodexEdition -dev -nomovies
Once that's done, simply fire up the game and the mod should load.
IF YOU HAVE AN OLD VERSION OF THE MOD INSTALLED, DELETE THE CODEX EDITION MODULE & DOW2_Codex_Edition folder before installing the new one as it will not delete or edit content that has been removed for lack of functionality or errors.
IF YOU ARE USING A LANGUAGE OTHER THAN ENGLISH IN-GAME, YOU WILL HAVE TO CHANGE THE LANGUAGE IN-GAME TO ENGLISH AND THEN COPY THE GAMEASSETS FOLDER FROM THIS RAR INTO THE DOW2 RETRIBUTION FOLDER AGAIN - OVERWRITE TO RE-APPLY IT ONCE YOU HAVE SWITCHED LANGUAGES AS CHANGING LANGUAGES WILL RE-DOWNLOAD A FILE THAT WILL OVERWRITE MODDED FILES, THIS MOD CURRENTLY ONLY SUPPORTS THE ENGLISH LANGUAGE FOR UNIT NAMES/DESCRIPTIONS.
WE NOW HAVE A MODDB PAGE, LOCATED HERE: http://www.moddb.com/mods/codexunofficial and it'd very much be appreciated if you stopped by and said hello, reviews help tremendously with providing increased popularity to the mod and the forums section has been setup to include balance discussion, general discussion and just general 40k discussion should people be so inclined.
The Army Painter is still somewhat broken and some races will cause a crash due to the Necron Commander DLC, I have no idea how to fix this and would greatly appreciate any assistance on this front.
Report problems with download to support@gamepressure.com
Files for Warhammer 40,000: Dawn of War II - Retribution
| Name | Type | Size | Date | Total | 7 days |
| --- | --- | --- | --- | --- | --- |
| Warhammer 40,000: Dawn of War II - Retribution - Elite Mod v.2.7.1 | mod | 939.8 MB | 11/20/2017 | 4.9K | 26 |
| Warhammer 40,000: Dawn of War II - Retribution - Great Hammer v.2.5 | mod | 75.9 MB | 5/28/2017 | 4.9K | 20 |
| Warhammer 40,000: Dawn of War II - Retribution - DoW II: Codex Edition v.1.1 | mod | 2340.4 MB | 4/16/2018 | 436 | 17 |
| Warhammer 40,000: Dawn of War II - Retribution - Destroyer Mod 2.0 | mod | 178 MB | 7/8/2013 | 4.5K | 15 |
| Warhammer 40,000: Dawn of War II - Retribution - Rites of War v.3.9 | mod | 567.5 MB | 11/20/2017 | 409 | 12 |
| Warhammer 40,000: Dawn of War II - Retribution - Test of War v.2.0 | mod | 521.5 MB | 3/18/2017 | 672 | 10 |
| Warhammer 40,000: Dawn of War II - Retribution - Cope's DoW2 Toolbox | mod | 2.6 MB | 5/17/2014 | 2.4K | 10 |
| Warhammer 40,000: Dawn of War II - Retribution - Space Hulk v.1.31 | mod | 251.2 MB | 11/25/2013 | 3K | 7 |
| Warhammer 40,000: Dawn of War II - Retribution - Vengeance of the Blood Ravens v.1.7 | mod | 2360.9 MB | 11/17/2017 | 2.7K | 6 |
| Warhammer 40,000: Dawn of War II - Retribution - Corpses Stay v.1.0 | mod | 19 MB | 5/15/2016 | 609 | 4 |