Sunless Sea - Ultima Ratio Regum v.1.1 - Game mod - Download
The file Ultima Ratio Regum v.1.1 is a modification for Sunless Sea, a(n) rpg game. Download for free.
file typeGame mod
file size281.7 KB
last updateMonday, August 6, 2018
downloads62
downloads (7 days)1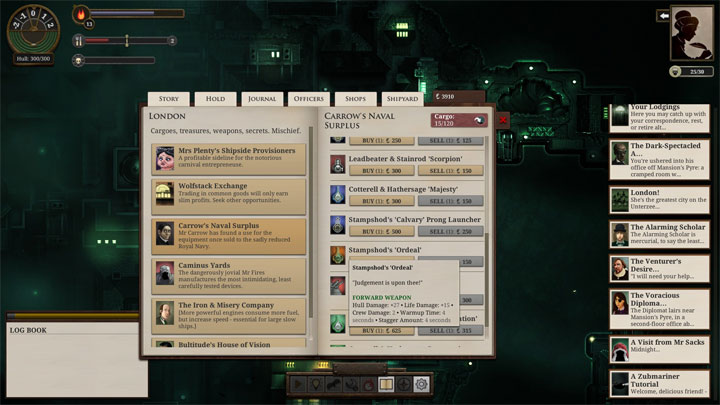 Ultima Ratio Regum is a mod for Sunless Sea, created by Machallan.
Description:
This mod aims to balance the weapons existing in the base game, and allow the players to discover the Boarding feature. To board someone, you need to bring his crew down to 0, wich is very difficult to do under the current build. With this mod, it should be easier to achieve.
This mod adds 9 new guns, and tweaks the basic ones. Basically, there are four categories of weapons:
-Flensing weapons, to take out zee beasts
-Armor piercing weapons, to sink ships
-Polyvalent weapons, to do both, but less efficiently
-Torpedo weapons, to do both, very effectively, but costing torpedoes with each shot.
There is a special fifth category aimed at killing the ennemy's crew in order to board their ship.
Some of the new weapons can be bought in London, but the others are scattered through the zee, in places that make sense.
(there is an excel sheet with more details if you don't want to discover them by yourself)
Additionally, boarding has been made a bit more rewarding.
Installation
Do a backup from your save, just in case (go to User/appdata/LocalLow/Failbetter Games/Sunless Sea/saves and copy Autosave.json somewhere if you don't want to switch to merciful mode)
Open the Zipped file, extract the Ultima_Ratio_Regum folder in User/appdata/LocalLow/Failbetter Games/Sunless Sea/addon
Open the icons folder, and extract the new icons in User/appdata/LocalLow/Failbetter Games/Sunless Sea/images/sn/icons
Simple as that.
To uninstall, remove the URR folder or delete it.
Please note that it is unadvisable to uninstall a mod without creating a new save. If you want to try, make sure that you have as less qualities related to the mod as possible, save your game, BACKUP YOUR SAVE, then try deleting the mod folder. Load your game, and hope it works.
Troubleshooting
There is a bug with the Alcaeus Corvette not losing crew. This seems to be related to the Pirate-Poet DLC, and so far, I haven't been able to do anything about that. So if you see one, don't bother trying to board it. Just sink it.
Credits
Special thanks to Failbetter Games for making Sunless Sea and Jonas Descurieux for the testing :)
Report problems with download to support@gamepressure.com
Files for Sunless Sea