Assassin's Creed: Odyssey - OMEROS - ReShade Series v.1.0 - Game mod - Download
The file OMEROS - ReShade Series v.1.0 is a modification for Assassin's Creed: Odyssey, a(n) rpg game. Download for free.
file typeGame mod
file size29.3 KB
last updateSaturday, December 1, 2018
downloads847
downloads (7 days)6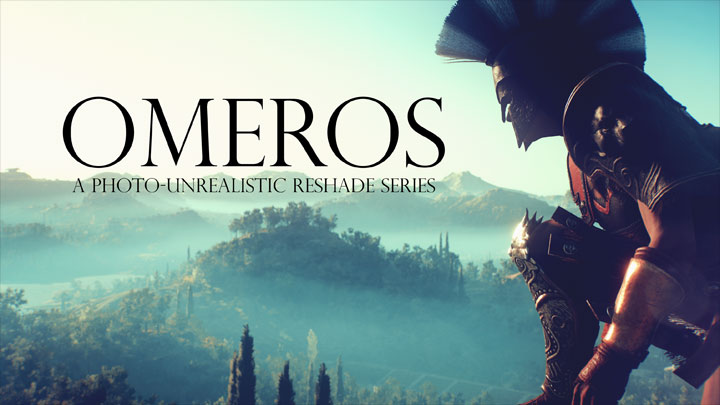 OMEROS - ReShade Series is a mod for Assassin's Creed Odyssey, created by Delicious Vegetable.
Description:
A series of photo-unrealistic ReShade presets featuring a variety of colors, moods, contrasts and tones for your screen-shooting enjoyment!
Introduction
It's early days yet in the Odyssey modding scene. There are already a fair handful of perfectly lovely ReShade setups out there. Most of them seem to be either attempts to replicate realistic lighting conditions, simple color tuning, or imitations of the stylistically striking but otherwise execrable movie/comic 300. These are a bit different. Six presets, each with a unique color grade and extra effects ranging from the subtle to the pronounced, that alter the look of the base game considerably. Some look better than others in certain situations, but all can be used throughout the game without loss of visibility.
The name Omeros is a direct homage to Derek Walcott's epic poem of the same name. Omeros is a modern retelling of the Iliad, with some elements borrowed from the Odyssey, set in Walcott's native St. Lucia. It is probably my favorite piece of English literature. Give a listen to the clip above (Walcott also has one of the finest speaking voices in poetry) for a taste of what it's about. If you'd like to learn more about Walcott, I've embedded a longish interview with the poet at the end (ignore the goofy white guy and just dig on a compelling conversation about creative process and the way landscape and history shape an artist's world-view).
Enjoy the ReShades, but please read everything here before posting a question or complaint.
Styles
Ithaka is my go-to every-day setup. Bright, bold blues and reds, yellows and greens that run to the dusty and desaturated. Cyans have been tuned to the blue for especially deep skies and seas. Whites are crisp and bright, shadows are warm and neutral. Days are clear, nights are dark but navigable.
Kirke features dramatic fairy-tale color grading. Warm, rich colors predominate. The strong contrasts are balanced with the application of ambient lighting and chromatic aberration effects. Somewhat of an acquired taste, but I like 'em just fine and I think you will too. Great for monsters and sunsets and storms at sea.
Menelaos is warm and dry. If you like the color grading of the base game but wish that yellow was used more selectively, you'll like this one. Crimson sunsets, amber grain-fields, sunny days, smoky torchlight, dusty deserts, olive skin tones. Minimal bells and whistles, though you can always tack them on yourself.
Nostoi is cool and high contrast. Bright marble blocks, wine-dark seas. Light has be tuned to the neutral, so less saturated dawns, dusks, flowers, and paintings. Designed for photographing statuary and architecture.
Kalypso is saturated, tropical, fruity, and bold. Bright cyan seas, soft highlights, cool nights, warm days. Skin tone can be a bit iffy depending on the weather and the location, but the beaches are to die for.
Phaiakian was the ur-style from which several of these evolved. It's similar in certain respects to both Ithaka and Kirke, but I like it so much that I'm sharing it as-is. Soft reds and blues muted by a cyan depth haze and ambient lighting with lens effects lend a distinctive image tone. Mornings and coastal scenes especially benefit from this one.
??
Installation
1. Install the latest edition of ReShade from its home website. Follow all instructions contained therein.
2. Download the OMEROS pack
3. Unzip the styles you like directly into your Odyssey folder (where the game's .exe lives). I suggest using all of them.
4. In the game, press Shift+F4 to open up the ReShade GUI
5. Load up the style you'd like to see (it's the drop-down selector at the very top)
6. Tinker to suit
see more
Popular files for Assassin's Creed: Odyssey