Fallout Tactics: Brotherhood of Steel - Xkcon's ultimate rip off mod v.0.895 - Game mod - Download
The file Xkcon's ultimate rip off mod v.0.895 is a modification for Fallout Tactics: Brotherhood of Steel, a(n) strategy game. Download for free.
file typeGame mod
file size1510 MB
last updateSunday, September 29, 2019
downloads1086
downloads (7 days)19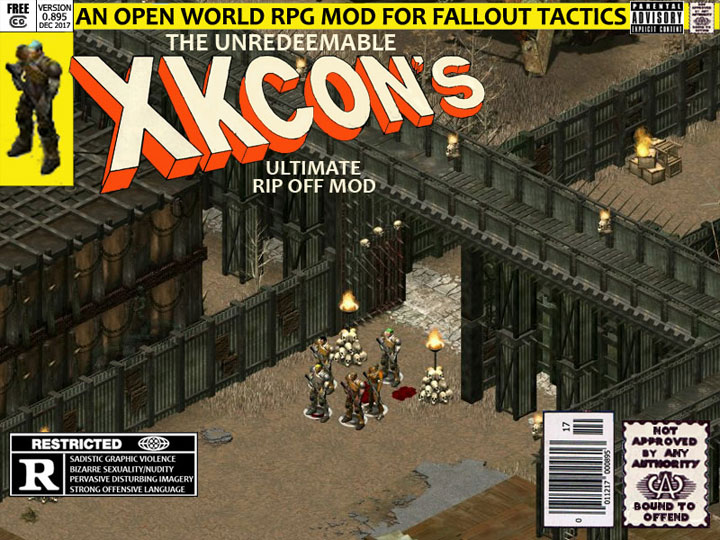 xkcon's ultimate rip off mod is a mod for Fallout Tactics: Brotherhood of Steel, created by RobCo Development Team.
Description:
The Mod is an open world RPGish redo of the original campaign. That is to say, that it is the original campaign set in a much larger world for the player to explore. In fact, if the player chooses you can ignore the main campaign altogether and go off and explore the new content. However of course, it is advised that you do not go AWOL and DO complete the brotherhood missions so as to advance some plot-lines and to get better equipment and ammos.
To install:
To play it you need to do the following:
First go to your fallout tactics folder, and make a copy of your 'core' folder, and rename it 'myoldcore' (or whatever else you want). Now go to the 'core' folder and delete the files:
'campaign','entities','gui','locale','sound','sprites','tables','tiles',
now unzip my file and copy the mod folders (of the same name that you just deleted) into the 'core' to replace the ones you deleted.
Play the mod in toughguy mode you can save on any map or mission or bunker. You can't save on random or special encounters.
When you start a new game, make sure to 'modify' one of the prefab characters, instead of creating a new character.
see more
Popular files for Fallout Tactics: Brotherhood of Steel