Code Vein - A.K. Reshade and visual improvements v.1.5 - Game mod - Download
The file A.K. Reshade and visual improvements v.1.5 is a modification for Code Vein, a(n) rpg game. Download for free.
file typeGame mod
file size4 KB
last updateSunday, December 1, 2019
downloads139
downloads (7 days)6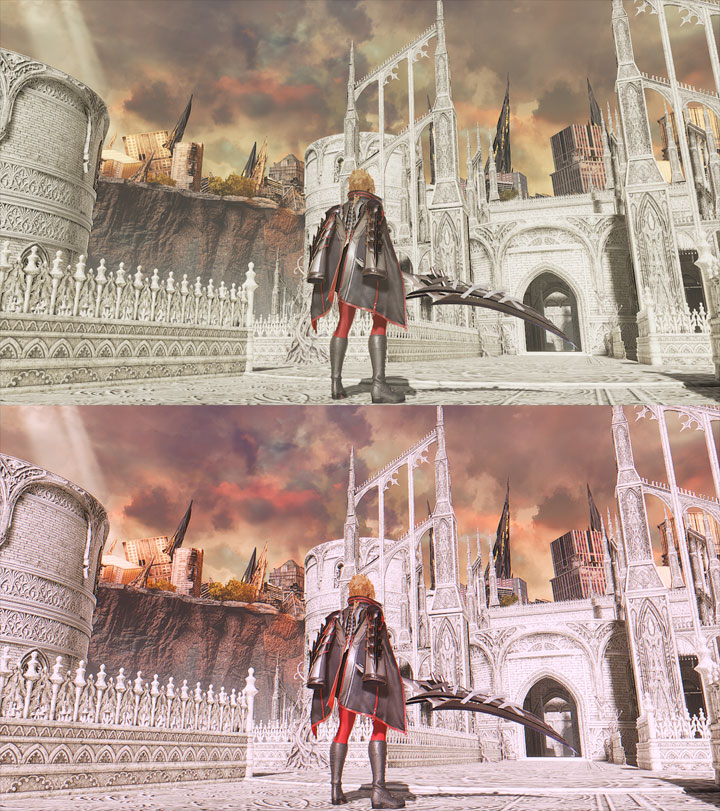 Vanilla game on top, modded at the bottom.
A.K. Reshade and visual improvements is a mod for Code Vein, created by Avallonkao.
Description (in authorís own words):
A Reshade I'm working for a time now, It is meant to make the game cleaner, also guides to improve textures and visuals..
Instructions:
1 - Download the latest Reshade, https://reshade.me/
2 - Launch the Reshade and select the CodeVein-Win64-Shipping.exe. "SteamLibrary\steamapps\common\CODE VEIN\CodeVein\Binaries\Win64\CodeVein-Win64-Shipping.exe
3 - On Reshade Launcher, select Vulkan.
4 - Click to download when asked after selecting Vulkan, then install all selected.
5 - Unzip my file, this will give you the .ini you need, copy to the same folder you installed the Reshade.
7 - Change the ReShade64.dll to d3d11.dll
6 - Open the Game, press Home and select my preset, A.K. Reshade. The DOF is disabled by default, to activate it press End on Keyboard.
VISUAL IMPROVEMENTS
This is optional but highly recommended if you have at very least a good VGA with 3GB VRAM. My specs are an fx8350 with an R9-280x 3GB.
1 - Download the improved Visuals and Performance ?you'll have two choices, I'm using the Performance Oriented Config, it works well with the other file I uploaded. This will give great improvement, If you have a better pc, use the main one. Follow his instructions and install one of them.
2 - After downloading any of the files from Improved Visuals and Performance open the Engine.ini, and disable the Tonemap (this is very important) r.TonemapperFilm=1 change it to 0
Extra Step -For this one, make sure you have more than 8GB RAM since it will take a lot more of RAM with this file. The second file you can download from here will boost and improve even more the game, just unzip it at the %LocalAppData%\CodeVein\Saved\Config\WindowsNoEditor\
Remember to always make a backup from the files you're overwriting.
If you followed these instructions you'll notice the lighting, shadow, and texture will improve considerably.
If you try the improvement files without the minimum requirement, it's your own risk.