Stardew Valley - Automate v.1.27.2 - Game mod - Download
The file Automate v.1.27.2 is a modification for Stardew Valley, a(n) rpg game. Download for free.
file typeGame mod
file size546.8 KB
downloads2226
(last 7 days)27
last updateWednesday, June 22, 2022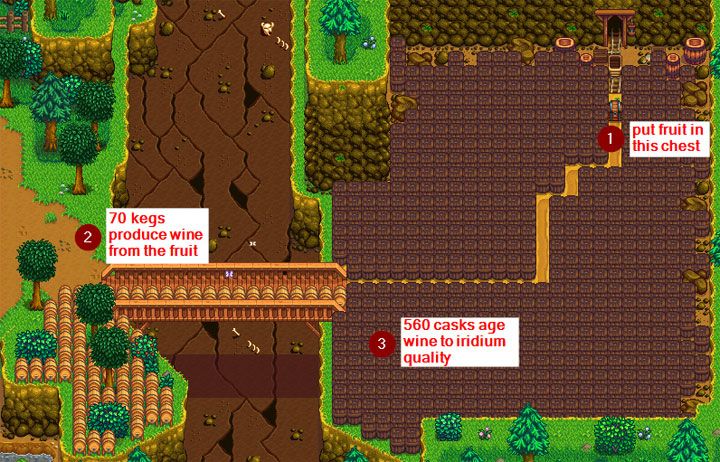 Automate is a mod for Stardew Valley, created by Pathoschild.
Description:
Put a chest next to any number of machines (like furnaces or crystalariums), and they'll take raw items from the chest and push their finished items into it. Press U (configurable) to show an automation overlay:
Basic automation
Place a chest next to a crafting machine (in any direction including diagonal) to connect it. Machines connected to a chest will push their output into it, and pull ingredients to process out of it.
This can be used to automate...
auto-grabbers?;
bee houses;
casks (even outside cellar);
charcoal kilns;
cheese presses;
crab pots;
crystalariums (once started with the gem/mineral you want);
fish ponds?;
fruit trees;
furnaces (don't forget they also need coal);
garbage cans;
hay hoppers;
Junimo huts;
incubators (for eggs);
kegs;
lightning rods;
looms;
mayonnaise machines;
mills;
mushroom boxes;
oil makers;
preserves jars;
recycling machines;
seed makers;
shipping bin? (configurable);
silos;
slime egg-presses;
slime incubators;
soda machines;
statues of endless fortune;
statues of perfection;
tappers;
wood chippers?;
and worm bins.
Automated machines will give you the same XP, achievements, and items you'd get for using them directly.
You can also automate greenhouse crops, indoor pots, animal produce, and forage by installing Deluxe Auto-Grabber and connecting a chest to its auto-grabber.
Machine groups
You can connect any number of chests and machines into a 'machine group', just by placing each chest/machine so it's touching another one. You can press U (configurable) to visualise your machine groups. See some machine setups for examples.
If you add multiple chests to the same machine group, they'll all be used in the automation. Input will be taken from all the chests, and output will be sent to chests in this order:
chests edited using Chests Anywhere? to enable 'prefer this chest for output';
chests which already contain an item of the same type;
any chest.
Connectors
You can optionally configure objects or paths as connectors, which link machines together. For example, here are wooden paths used as connectors:
Instructions:
Install the latest version of SMAPI.
Unzip the mod folder into Stardew Valley/Mods.
Run the game using SMAPI.
Last update: Wednesday, June 22, 2022
Genre: RPG
File size: 546.8 KB
see more
Popular files for Stardew Valley