Stardew Valley - Swim v.1.8.4 - Game mod - Download
The file Swim v.1.8.4 is a modification for Stardew Valley, a(n) rpg game. Download for free.
file typeGame mod
file size1.2 MB
last updateMonday, February 22, 2021
downloads225
downloads (7 days)8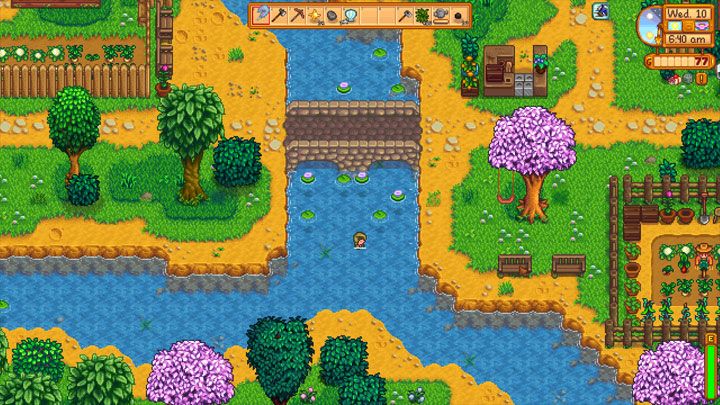 Swim is a mod for Stardew Valley, created by aedenthorn.
Description:
Allows you to swim anywhere there is water, wear your swimsuit on land, and dive for treasure or swim with rainbow fishies.
Based on Platonymous's Swim (Almost) Anywhere mod concept, this mod lets you jump into the rivers, lakes, ponds, and oceans of Stardew Valley.
Features:
Toggle jumping into water using J (customizable)
Jump in and out of water by pushing towards the water's edge.
Jumping into water puts on your swimsuit, jumping out takes it off.
Toggle wearing swimsuit on land using K (customizable).
Use tools while swimming and in swimsuit.
Warp between the mountain, town, beach, and forest by swimming to the map edge.
Dive into the ocean and mountain lake using H (customizable).
Play with rainbow-coloured fishies under the sea and big fishies in the mountain lake.
Collect resources and treasure from the ocean, mine minerals and artifacts from the mountain lake.
Oxygen depletion while underwater is based on player's max stamina (multiplier available in config file) - also, bubbles.
There is rumored to be special gear hidden in the depths that might improve your swimming and diving...
Artifact spots in the mountain lake look like lily pad shadows... but there's no lily pad above!
To dive, you must have TMXL Map Toolkit installed.
You should install JSON Assets as well, just... because.
Instructions:
Install the latest version of SMAPI.
Unzip the mod folder into Stardew Valley/Mods.
Run the game using SMAPI.
Last update: Monday, February 22, 2021
Genre: RPG
File size: 1.2 MB
see more
Popular files for Stardew Valley