Stardew Valley - Mobile Phone v.2.9.3 - Game mod - Download
The file Mobile Phone v.2.9.3 is a modification for Stardew Valley, a(n) rpg game. Download for free.
file typeGame mod
file size565.6 KB
downloads4659
(last 7 days)65
last updateWednesday, August 3, 2022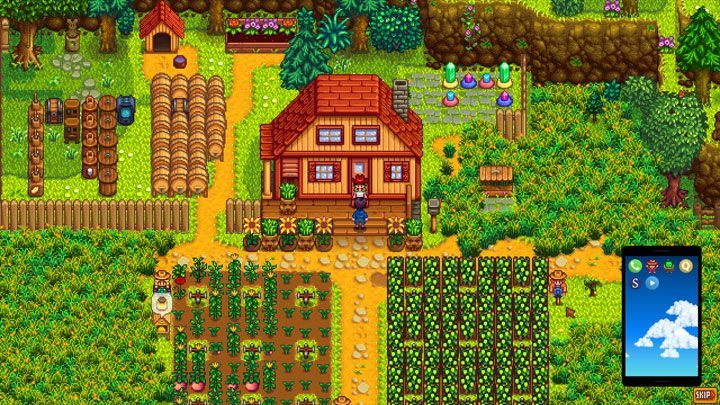 Mobile Phone is a mod for Stardew Valley, created by aedenthorn.
Description (in author's own words):
Gives you a mobile phone that lets you call your friends and run mobile apps.
This mod provides you with a smartphone interface and a pre-installed phone app that lets you talk to friendly villagers from anywhere.
The phone is highly customizable and reskinnable using the config.json file created in the mod's folder the first time you run the game with the mod installed.
Usage
To open and close the phone interface, press the toggle hotkey (End key by default).
To switch rotation of the phone, press the rotate hotkey (PageDown key by default).
Open your phone book by clicking on the phone app.
Move the phone around the screen by dragging with the mouse on the phone edge (not its screen).
Scroll through phone contacts by dragging with the mouse.
Close the app by pressing the hotkey or Esc.
Config
Hotkeys can be set in the config file for both toggling the phone and rotating it.
Custom texture paths for the phone shell, wallpaper, and arrows can be specified in the config file and added to the mod's assets folder. The phone and wallpaper should have both portrait and landscape versions, and the variables for width, height and offsets should be changed in the config file based on the new textures' sizes.
PhonePosition must be one of the following: mid, top-left, top-right, bottom-left, bottom-right. This determines where the phone is anchored in-case the screen size changes. You can still located the phone anywhere on the screen using the offsets in the config file.
MinPointsToCall determines how many friendship points are required to show an NPC in the call app (each heart represents 250 points). Default is 1000 points or four hearts.
Technical
Requires SMAPI, does not use Harmony.
Compatible with Mod Updater? for automatic updates.
Code is at https://github.com/aedenthorn/StardewValleyMods
Instructions:
Install the latest version of SMAPI and Json Assets
Unzip the mod folder into Stardew Valley/Mods.
Run the game using SMAPI.
Last update: Wednesday, August 3, 2022
Genre: RPG
File size: 565.6 KB
see more
Popular files for Stardew Valley