Fallout 4 - Mod Configuration Menu v.1.3.9 - Game mod - Download
The file Mod Configuration Menu v.1.3.9 is a modification for Fallout 4, a(n) rpg game. Download for free.
file typeGame mod
file size363 KB
downloads5947
(last 7 days)23
last updateWednesday, February 17, 2021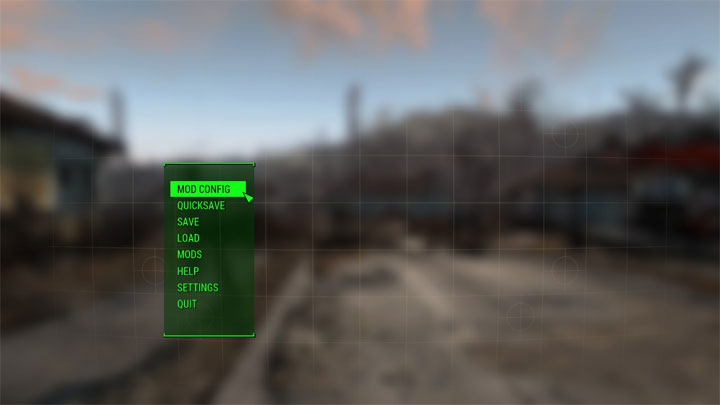 Mod Configuration Menu is a modfor Fallout 4, created by reg2k.
Description:
The Mod Configuration Menu is a settings page for mods!
It provides a central location for mod configuration, accessible via the Pause menu.
ModSettings are stored in per-mod INI files under Data\MCM\Settings, making it easy to backup and restore settings and even change them outside the game if so desired should the mod support it.
Are you a modder? Check out the documentation for detailed information on creating MCM menus.
FEATURES:
Configure more aspects of your mods than ever before - the MCM provides a range of controls such as checkboxes, steppers, dropdowns, sliders, buttons, text, and keybinds.
Optimized for PC. The MCM steps far beyond what is allowed for consoles.
No ESM/ESP. The MCM does not count towards your load order.
Save-safe. The MCM never sinks its teeth into your savegame - any modifications, as with most F4SE plugins, are done in-memory.
File-safe. No vanilla forms or files on disk are overriden. The MCM is completely standalone.
Hotkey support and conflict detection. Assign hotkeys to mod actions to activate them on-the-fly.
DETAILS:
Each mod's menu lives in its own directory in Data\MCM\Config\ModName.
User settings are located at Data\MCM\Settings\ModName.ini.
Installation:
Install with your preferred mod manager, or copy the files in the download to your Fallout 4 Data folder for a manual install.
You should see a new option in the Pause menu in-game.
If there is no Mod Config option, double-check that you have F4SE installed and running!
REQUIREMENTS
Fallout 4 Script Extender (F4SE)
Last update: Wednesday, February 17, 2021
Genre: RPG
File size: 363 KB